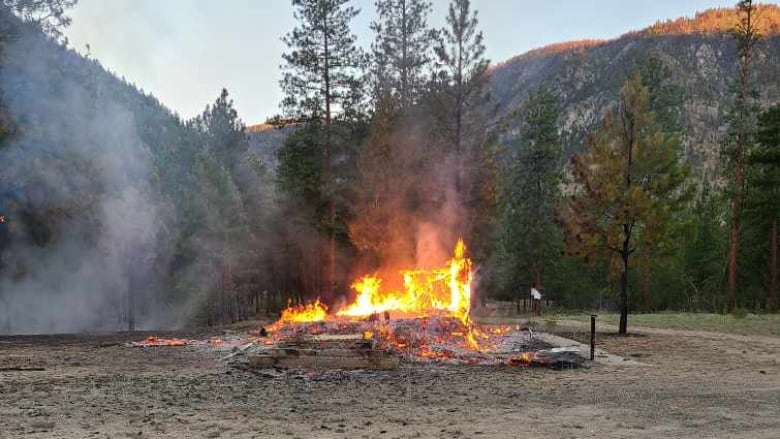 "Two more Catholic churches on reserves in British Columbia's southern Interior burned down Saturday morning. Lower Similkameen Indian Band Chief Keith Crow says he received a call at about 4 a.m. PT that the Chopaka church was on fire. By time he arrived about 30 minutes later, it had burned to the ground. "I'm angry," Crow said. "I don't see any positive coming from this and it's going to be tough." Crow said he later received a call from the Upper Similkameen Indian Band, near Hedley, that a church on that reserve had burned down as well."
"The Upper Similkameen Indian Band confirmed that St. Ann's Church was destroyed overnight. A representative for the band said officials are currently working with RCMP at the site of the fire. In a written statement, RCMP said both fires started within an hour of each other early Saturday morning. They said the Chopaka church fire had spread to nearby brush, but B.C. Wildfire crews were able to attend to it before it spread."
"Crow said the fire in his community is still under investigation, adding that the fact it came on the heels of overnight fires that destroyed two other churches in the Okanagan earlier this week is suspicious. "There's got to be something more to it," he said. "It's not just coincidence." (Maryse Zeidler CBC News)
Comment: The authorities and Chief Crow have deemed the fires suspicious. Suspicious? The motivations behind the burning of four Catholic churches in Canada should be obvious to all. It's the direct result of the revelations of unmarked graves of close to a thousand First Nation children who met their demise while under the "care" of government sponsored, Catholic Church run residential schools. This was just at two schools. There will undoubtedly be many more, probably thousands more. These four burnt churches are an expression of First Nation rage. Canada and the Church are lucky this rage hasn't resulted in a bishop burnt at the stake… yet.
As Chief Crow notes, this rage serves no useful purpose and endangers the community. That doesn't matter. Rage is immune from reason. We'll very likely see this First Nation rage once Deb Haaland starts digging into the past actions of our Indian residential schools. I doubt it will be much prettier than the Canadian schools. It's amazing, but not surprising, how history can feed rage. I see it in the current stink over critical race theory or what people think is critical race theory. The far right doesn't want these ugly chapters of our history brought to light and the far left wants to kindle their "kill whitey" rage.
This is the same kind of rage that burnt down the police precinct in Minneapolis the night of the George Floyd murder and the Wendys in Atlanta the night Rayshard Brooks was shot. The looting is just looting. There's a kind of economic rationalism to looting not common to destructive rage. I'm afraid we're going to see a lot more rage before we finally get tired of the mindless lunacy and destruction. Rage is just so fashionable these days.
TTG
https://www.cbc.ca/news/canada/british-columbia/2-more-catholic-churches-burned-down-in-b-c-s-interior-1.6081796
These BBC articles offer a decent background on the subject including the 2015 Canadian Truth and Reconciliation Commission findings on these Indian Residential Schools.
https://www.bbc.com/news/magazine-33099511
https://www.bbc.com/news/world-us-canada-57592243
These America Magazine articles cover the Catholic Church's central role in this crime against humanity. Seems the Church is making the same foot dragging mistake she made with the sexual predation tragedy. Surprising with results of the recent Pan-Amazonian Synod and the publication of "Querida Amazonia" pitching hard for justice for the indigenous people of South America. How about North America?
https://www.americamagazine.org/politics-society/2021/06/24/bodies-found-indigenous-school-canada-240926
https://www.americamagazine.org/faith/2021/06/11/215-graves-indigenous-children-kamloops-residential-school-oblates-catholic-church