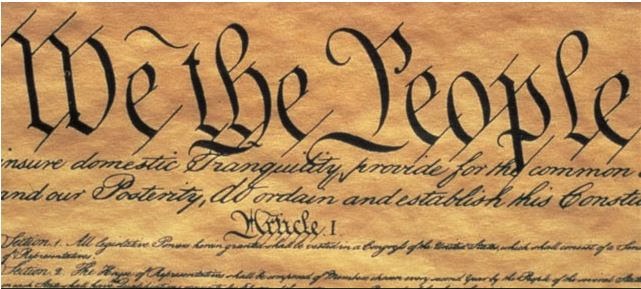 Preamble to the United States Constitution – Wikipedia
"We the People of the United States, in Order to form a more perfect Union, establish Justice, insure domestic Tranquility, provide for the common defence, promote the general Welfare, and secure the Blessings of Liberty to ourselves and our Posterity, do ordain and establish this Constitution for the United States of America." The Preamble
"The phrase "to form a more perfect Union" has been construed as referring to the shift to the Constitution from the Articles of Confederation.[73] The contemporaneous meaning of the word "perfect" was complete, finished, fully informed, confident, or certain." wiki
"To know what has come before is to be armed against despair. If the men and women of the past, with all their flaws and limitations and ambitions and appetites, could press on through ignorance and superstition, racism and sexism, selfishness and greed, to create a freer, stronger nation, then perhaps we, too, can right wrongs and take another step toward that most enchanting and elusive destinations: a more perfect Union."— Jon Meacham, 2018
Comment: There is much to say about the issue of the function of government that is implied by the deliberate reinterpretation today of the words "a more perfect union" in the preamble to the US Constitution.
In the minds of the framers there was no doubt at all that what was meant was the "perfection" i.e., the completion of the organization of a government for the original states and any that might be formed later.
What was NOT intended was the expression of a desire or intention to seek the creation of an earthly paradise, a utopia, constructed by humans who held the belief that mankind is endlessly malleable and that it is the function of government to control and direct that malleability toward anyone's idea of what a perfect society ought to be.
Today at the CPAC convention Senator Mike Lee of Utah reminded us all clearly of the essential difference between these two visions of the purpose of government. Lee told us that we should always be skeptical of people who believe that government exists to shape us, mold us and control us in pursuit of utopian goals. Such people may or may not be genuine believers in their stated goals. Some of them merely seek money and power and a good life for themselves in a US version of the Soviet nomenklatura. Others, like AOC are deluded but dangerous naifs. Some are the tools of disappointed and deeply cynical opportunists like HC. Some are anarchist street thugs reminiscent of the brawling Brown Shirts of the SA.
They all want the same thing. They want to own us. They want to tell us what we can say or write. They want to destroy our history, our shared memory of who we are, who we were and how much we struggled to make this country what it has been. They want to tell us who we are just as the Soviet Union and the CPUSSR wanted to create Soviet Man.
Those of the globalist elites who actually believe in their goals, think it only right that average Americans should live poorer so that people in other parts of the world can live better in a world-wide socialist state.
Well, to hell with that! pl