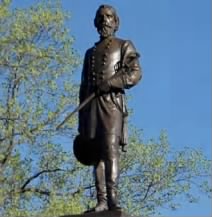 "A legal challenge is being mounted against the City of Richmond's plans to remove the final confederate statue still standing.
A.P. Hill, a general, killed in the Civil War, is buried under the statue, which sits at the intersection of Hermitage and Laburnum on the city's north side.
Under the law, the city had to petition a judge to get permission to remove Hill's remains. Earlier this month, a group of Hill's descendants objected, not to the removal itself, but to what happens to the large granite marker.
"Are the people who have identified their selves as defendants truly defendants? That's a question of whether they have a right to participate in objecting to the city's plans," said Steven Benjamin, NBC12 Legal Analyst.
Those descendants want control of it and don't want the statue or marker going to The Black History Museum, which has taken control of all the other Confederate monuments removed in the city.
"Ordinarily, the question surrounding the A.P. Hill monument would be whether this was a grave marker that is meant to identify the person whose remains are beneath the marker or whether it's a monument to something else," said Benjamin.
Benjamin says the marker/monument debate may become moot since the city owns the circle, and different cemetery rules could apply.
"So, it does appear that if this city property and it is, that's what's been alleged, then the city has the right to determine what to do with that property," said Benjamin.
Hill's remains are slated to be taken to a Culpeper cemetery, where he was originally from.
A court hearing is not yet set. So far, no comment from the attorneys involved in the case.
View the entire petition HERE.".
Comment: This Hill was an upper-class kid who chose to go to West Point and follow an army career. He resigned from the US Cavalry when Virginia seceded from the Union. His resignation from the service was accepted. He was appointed colonel of a volunteer infantry regiment in Virginia's forces. They were integrated into the Confederate Army when Virginia joined the Confederacy a few months later. His "Light Division" was considered a body of shock troops and he rose to corps command when Stonewall Jackson's death created a vacancy. He had the habit of wearing a red shirt in combat so that "everyone will know where I am." I suppose that included Yankee snipers.
His performance became increasingly uneven during the war. Most people attribute that to ongoing and steadily worsening complications (adhesions and retained urine) in his body caused by a youthful case of gonorrhea contracted from a prostitute in New York City while a cadet. It is generally thought that his illness would have killed him if he had survived the Civil War.
In my story about Sharpsburg (Antietam) Captain Claude Devereux was hit in the knee by a ricochet about the time he hears a ruckus behind him on a road from a ford to the south. He looks back and sees Hill's red shirt coming on at the head of his division and knows that all will be well.
The city of Richmond's zeal for wokian purity knows no bounds. They do not deserve AP Hill's statue nor his bones that lie beneath it. pl
A.P. Hill removal plans in Richmond now under legal challenge (nbc12.com)
"SHARPSBURG" by W. Patrick Lang (a prequel to TBC)" ‹ Turcopolier — WordPress