"A new report on unidentified flying objects set to be released next month shows the US government is taking aliens increasingly seriouslyByNick Allen, US EDITOR21 May 2021 • 6:11pm
Lieutenant Commander Alex Dietrich is, by her own admission, a highly rational person.
A US Navy fighter pilot who served combat tours in Iraq and Afghanistan, she has landed a supersonic F/A-18 jet on an aircraft carrier hundreds of times, and now teaches at the US Naval Academy.
She has also had one of the most famous close encounters with a UFO, or Unidentified Flying Object.
On November 14, 2004, Lt Cdr Dietrich was stationed off the coast of southern California on the USS Nimitz carrier, when numerous flying objects were picked up by ship radar – see the final silent clip in the video below.
The objects had descended impossibly fast, dropping a distance of 80,000ft in less than a second.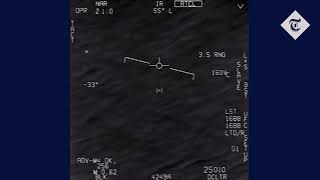 In separate planes, Lt Cdr Dietrich and Commander David Fravor were dispatched to investigate.
What they saw on that day has never been adequately explained – until now.
"Enter stage left, the Tic Tac– that's what we affectionately refer to it as," says Lt Cdr Dietrich, speaking publicly for the first time this week in an interview with 60 Minutes, the venerable US news programme." The Telegraph
Comment: IMO the US public is being prepared for important releases of information on the subject of "little grey men." The "roll out" of material as part of that preparation is impressive. Dietrich is an active duty US Navy officer now teaching at Annapolis. She would not be making highly publicized public statements on a subject like this unless her superiors approved. Among the various statements I have heard recently on the subject of the little green or grey men is one that mentions what George C. Marshall had to say on the subject. Marshall, (five star general, Secretary of State and Secretary of Defense) supposedly said that UFOs are real, that there are at least four different species of beings that inhabit them and that the riders from the stars could defeat us all easily if they wished to. Well, pilgrim turcopoles, if Marshall really said that, you can take it to the bank. He was the absolute gold standard for integrity and blunt truthfulness. pl
https://www.telegraph.co.uk/news/2021/05/21/ufo-uap-aliens-report-sightings-us-government-encounters-barack/