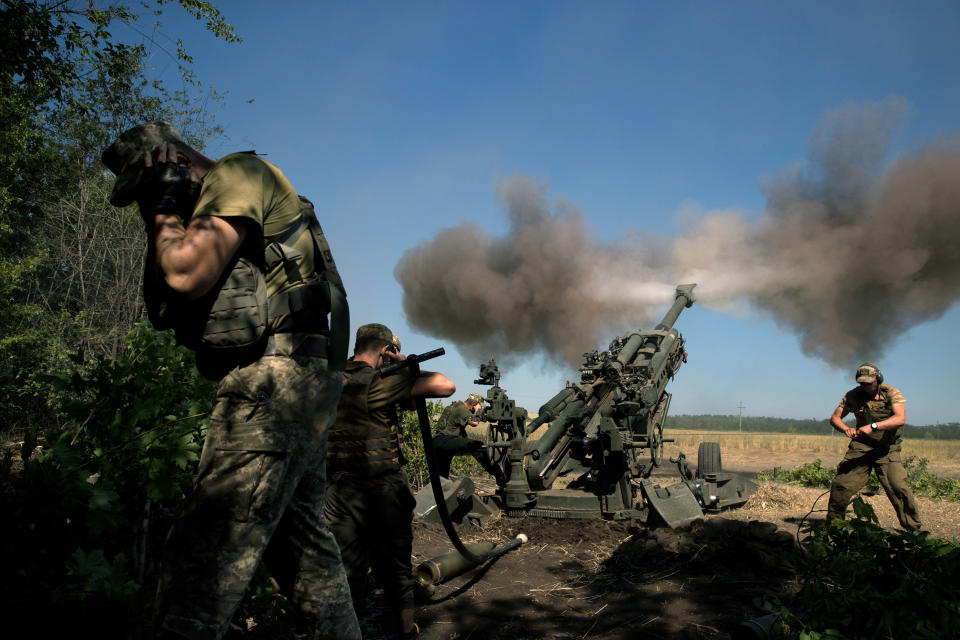 WASHINGTON — Ukrainian troops fire thousands of explosive shells at Russian targets every day, using high-tech cannons supplied by the United States and its allies. But those weapons are burning out after months of overuse, or being damaged or destroyed in combat, and dozens have been taken off the battlefield for repairs, according to U.S. and Ukrainian officials.
One-third of the roughly 350 Western-made howitzers donated to Kyiv are out of action at any given time, according to U.S. defense officials and others familiar with Ukraine's defense needs. Swapping out a howitzer's barrel, which can be 20 feet long and weigh thousands of pounds, is beyond the capability of soldiers in the field and has become a priority for the Pentagon's European Command, which has set up a repair facility in Poland.
Western-made artillery pieces gave Ukrainian soldiers a lifeline when they began running low on ammunition for their own Soviet-era howitzers, and keeping them in action has become as important for Ukraine's allies as providing them with enough ammunition.
The effort to repair the weapons in Poland, which has not previously been reported, began in recent months. The condition of Ukraine's weapons is a closely held matter among U.S. military officials, who declined to discuss details of the program. "With every capability we give to Ukraine, and those our allies and partners provide, we work to ensure that they have the right maintenance sustainment packages to support those capabilities over time," Lt. Cmdr. Daniel Day, a spokesperson for the U.S. European Command, said in a statement.
When the ammunition for Ukraine's Soviet-era guns, which fire shells 152 mm in diameter, grew scarce shortly after the invasion, NATO-standard howitzers that fire 155 mm shells became some of Ukraine's most important weapons, given the vast stockpiles of compatible shells held by Kyiv's partners.
https://www.yahoo.com/news/artillery-breaking-ukraine-becoming-problem-150827570.html
Comment: The NYT's headline for this article leaves the impression that this is a shocking development. I seriously doubt the Pentagon is shocked or sees this as anything more than normal military logistics. A listing of aid for Ukraine from last summer noted an unspecified number of replacement barrels for the M777. The Pentagon set up a repair depot in Poland to expedite the replacement of those barrels. Lithuania is repairing the German PzH 2000 self-propelled guns as they wear out. They already returned two of them to service in September.
Even in peace time, artillery barrels wear out as do mortar tubes. In the one year I led a weapons platoon with three three 81mm mortars, we replaced three tubes. One was worn out of tolerance. One had a broken firing pin. All just normal wear and tear. The third was a burnt out tube during a near 30 min FPF on the Big Island. This was during a company defense night live fire exercise. A battery of 105mm artillery also fired in support. The Division Commander, MG Willard Scott, an old cannon cocker himself, was there as was our battalion commander and the artillery battalion commander. We fired one tube with illumination and the other two with both HE and WP. We fired every round we had left far faster than the recommended sustained rate of fire. The barrels glowed. We swabbed the tubes with wet rags and cooled them by pouring water on them. I saw the clouds of steam in the muzzle blasts. All the commanders witnessing our FPF were in awe, including the artillery battalion commander.
One tube ended up discolored and burnt out. Someone wanted to do a report of survey. MG Scott directed there will be no report of survey. Rather he visited us the next day and commended us for our actions. We said it was our job to fire those mortars as we did and his job to keep the tubes and the rounds coming as needed.
TTG