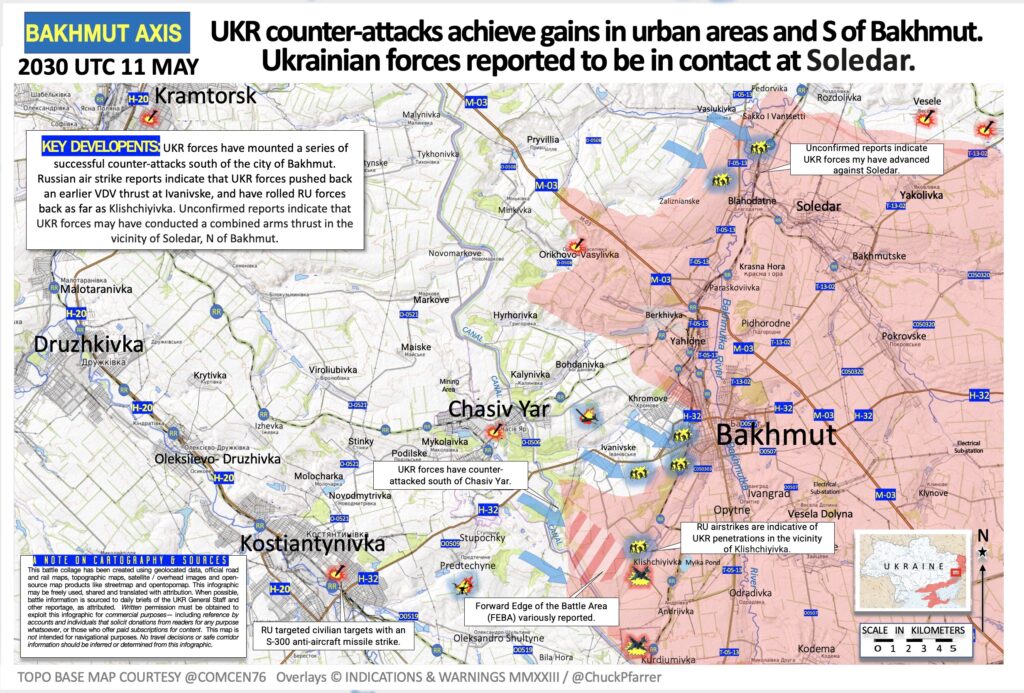 Guess, you've 'heard' it in the social media, meanwhile: essentially, Prigorzhin is complaining about 'some 72nd Brigade' and this running away; losing kilometres of frontline; he's fiercely complaining about the Keystone Cops in Moscow, and that Wagner had to save the day….and you might have heard about the 3rd Assault Brigade defeating the 72nd and making 'significant advances'…
So, what has happened, when and where…?
Essentially, after months of critical shortages on artillery ammo and heavy infantry weapons, Ukrainians have finally received both. Plenty of both. So much so, the last 4 to 5 days they're shooting 'at will': as much as necessary and whenever necessary, without any kind of limits in expenditure.
Moreover, they were in the process of rotating some of their units in and out of Bakhmut. As explained earlier, ZSU is trying to keep its units inside Bakhmut for only limited periods of time. Nevertheless, such assets like the 93rd Mech and the 3rd Assault are fighting there for four- and three months already: they were only able to rotate single their battalions (or elements of these) in and out of the town.
On the contrary, the last five months, the Russians were not really 'rotating' their units in and out of Bakhmut: depleted units were left inside the town, convicts were spent by dozens of thousands, and ever additional units were brought in. As a consequence, many of their 'regiments' and 'brigades' are down to company-size (200-300 troops), and completely exhausted. Nevertheless, their generals kept pushing until realizing available troops can't go on any more. Thus, something like about a week ago, and in the light of a growing number of panicky withdrawals of different of exhausted units, they did replace a few of exhausted VDV and VSRF units.
Now, in and immediately around Bakhmut, there are three primary combat zones, meanwhile:
– Road 0506 north of Hromove; ZSU has a battalion each of the 92nd Mech there; the Russians are assaulting with three regiments of the VDV;
– The complex in western outskirts of what's left of Bakhmut, including the Children Hospital, Postal Office No.1, and the quarter with private homes north of them (plus what the Russians call 'Citadel', the hill further west), and the area north-east of it; ZSU has a battalion each of the 125th and 241st TD Brigades, plus one from the Presidential Guards Brigade there (the 93rd Mech was meanwhile withdrawn); the Russians are primarily attacking with Wagner;
– South-western outskirts of Bakhmut, including the Road 0504, that hill over Klishchivka, and the Siverskyi-Donets – Donbass Canal; ZSU has elements of the 3rd and 5th Assault, plus the 80th Airborne there; the Russians have something like a full division of VDV in total, plus what's left of two motor rifle brigades.  
Both sides were aiming to hit the other as this was rotating exhausted units out and bringing in new ones. Problem (for the Russians) was that the 'sudden re-activation' of Ukrainian artillery came as a very nasty surprise (was that a new Russian Army record in turret tossing?): after all the months of Ukrainians holding back with their artillery fire, they are simply not used to find themselves on the receiving end of so many shells deployed as precisely.
Just how nasty became obvious when the 3rd Assault was sent to clear the Russian-controlled bridgehead west of the Siversky Donets – Donbas Canal. This was held by the 72nd Motor Rifle Brigade (VSRF). Ukrainians attacked from two sides (approx. west to east and south to north). As first, they blew up one or two of its BMPs carrying elements of a newly-arrived Russian battalion and panicked its infantry to flee. The commander of the Russian brigade rushed his second battalion to the frontline, but it panicked when hit by artillery and infantry attacks and ran away over the Canal. A 2,000-metres-wide and 500-metres-deep sector of the Russian frontline collapsed.
When hearing about this, Wagner commanders in Bakhmut – already nervous because of Prigozhin's constant complaints about the 'Ministry of Intrigue' (Keystone Cops in Moscow), lack of ammunition, and warning about 'Ukrainian counteroffensive on the flanks of their advance into Bakhmut' – assessed that Ukrainians were about to advance all the way to Klishchivka. Obviously, there was no option but to stop assaults into western Bakhmut and rush at least one of Wagner's assault groups, reinforced by at least one of the VDV, to the Canal with the aim of stopping Ukrainian advance and re-establishing the frontline.
Obviously, when troops are on the move, they are exposed in the open. Moreover, after securing positions of the 72nd Motor Rifle, the 3rd Assault stopped and entrenched itself. Thus, this Wagner and VDV assault groups ran straight into an ambush. Result? To quote one of involved Ukrainian troops: 'Wagner has shown a masterclass in running'.
While some Ukrainian sources are claiming as many as 500 Russians killed, the 3rd Assault collected at least 64, possibly 87 Russian killed and 5 prisoners, knocked out or captured one or two BMPs, several mortars, the main forward ammunition depot of the 72nd Motor Rifle, and reached the Canal.
https://xxtomcooperxx.substack.com/p/ukraine-war-10-may-2023-ministry
Comment: Ukraine holds in Bakhmut, but only a sliver on the western edge of town. Apparently that's enough to prevent Prigozhin from declaring victory and to keep him alternating from fits of rage to bouts of depression. A number of Russian warbloggers are calling this local counterattack by the 3rd Assault Brigade the beginning of the much anticipated Ukrainian counteroffensive. I doubt it. The 3rd Assault has been on the front lines for months. It is not part of the assembled reserve forces. They breached the Russian lines and then dug in. This is what's called consolidation on the objective, a critical and not always easy task. It requires discipline and leadership to pull off successfully. In this case it put the 3rd Assault in an ideal position to receive the Wagner and VDV counterattack and inflict heavy casualties. The results of this local counterattack will undoubtedly feed into the counteroffensive and it may even feed into where the counteroffensive will eventually strike. But the best is yet to come.
TTG