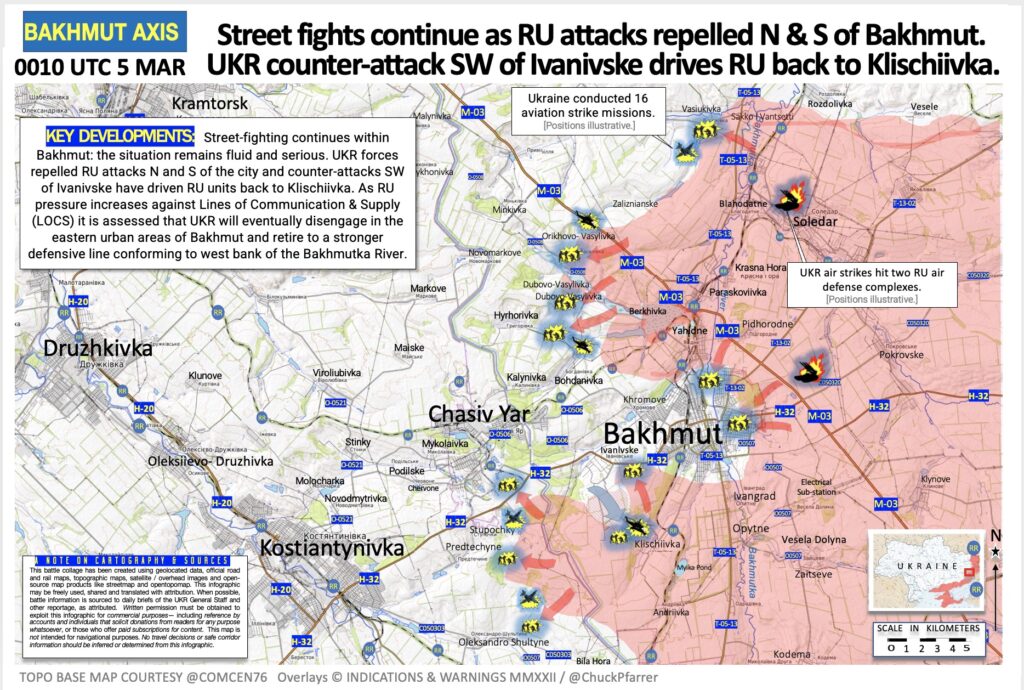 Russian forces appear to have secured a sufficient positional advantage to conduct a turning movement against certain parts of Bakhmut but have not yet forced Ukrainian forces to withdraw and will likely not be able to encircle the city soon. Russian forces made one limited confirmed advance near Bakhmut on March 4. As ISW reported on March 3, Ukrainian forces are likely setting conditions for a controlled fighting withdrawal out of particularly difficult sectors of eastern Bakhmut, although it is not clear that Ukrainian commanders have decided to withdraw at this time. Russian sources claim that Wagner Group elements have made gains in northeastern and eastern Bakhmut over the past few days, creating a tactically challenging turning movement in urban areas in northern Bakhmut. Ukrainian officials have recently reiterated that Ukrainian forces still control the situation in Bakhmut but have noted that circumstances are increasingly complicated and that the Wagner Group has committed its most advanced and prepared elements to assault operations in the area.
Russian advances in Bakhmut have been slow and gradual and do not suggest that Russian forces will be able to encircle Bakhmut soon, much less that they will be able to take the city by frontal assaults. The Russians have, rather, managed to push close enough to critical ground lines of communication from the northeast to threaten Ukrainian withdrawal routes in a classical turning movement. The purpose of a turning movement is to force the enemy to abandon prepared defensive positions and is different from the aim of an encirclement, which is to trap and destroy enemy forces. The Russians may have intended to encircle Ukrainian forces in Bakhmut, but the Ukrainian command has signaled that it will likely withdraw rather than risk an encirclement. ISW assesses that Ukrainian forces are far more likely to withdraw than to become encircled and that the Ukrainians might still be able to hold their positions in Bakhmut if they choose to try. Russian forces have been suffering high casualties in these advances, and Ukrainian commanders' assessments of the likelihood that they can force Russian attacks to culminate near or behind their current positions balanced against the risk of losing access to essential withdrawal routes will likely guide the Ukrainian decision to stay or pull back.
https://www.understandingwar.org/backgrounder/russian-offensive-campaign-assessment-march-4-2023
Comment: Turning movements seems to be the norm in this war. Except for the encirclement and reduction of Mariupol, neither the Ukrainians nor the Russians have managed any significant encirclements. No pockets. No cauldrons. No need for a breakout from an encirclement. I consider that an indication of some operational skill on both sides.
If the Ukrainians are forced to withdraw due to a Russian turning movement, Russians will no longer have to fight through the rubble and ruins of Bakhmut. However, if the Ukrainian defenders manage to conduct a deliberate withdrawal under pressure, Russians (and Ukrainians) will continue to die in the rubble. That can only be accomplished if the Ukrainian units brought in as reinforcements are positioned to keep the resupply and eventual escape routes intact. That, I believe, was the purpose of the reinforcements recently sent in, not to add to the defenders of Bakhmut city.
Why would the Ukrainians prefer conducting a withdrawal under pressure rather than stealing away in the night without further casualties? One reason may be that the Russians have been applying relentless pressure for months and continue to do so. It would be difficult if not impossible to steal away quietly. Another reason may be that the Ukrainians prefer to delay and bleed the Russians with urban fighting for as long as they can.
Estimates from Ukrainian commanders and troops fighting in Bakhmut of the ratio of Russian casualties to their own run as hight as 10:1. Of course you can hardly expect estimates from the grazing fire level to be accurate. However, Oleksiy Danilov, Secretary of the National Security and Defense Council (NSDC) of Ukraine, said during a recent national news telethon that the NSDC estimate is 7:1. That's a pretty good return for continuing the fight for Bakhmut.
Much of that exorbitantly high Russian casualty rate is due the Wagner Group tactics of using their thousands of prisoners as expendable meat "by sending out "zerg" attacks in which infantry units played the role of sensors; advancing until they were taken down, then replaced by another that advanced until it was eliminated, rinse, repeat, many times daily." In a way it worked, but at one hell of a cost.
But those unsophisticated zerg rushes eventually evolved into a much more effective tactical doctrine. The BTG has been abandoned and the assault group is taking its place. Artillery is still the king of battle, but the Russians have finally remembered that infantry is the the queen of battle. That queen can be a deadly banshee if employed right. The assault group is a heavily armed infantry battalion that fights dismounted using available cover and concealment to close with the enemy. This is quite a departure from the old Soviet and Russian doctrine of everybody riding buttoned up in their tanks and APCs over open fields. In recent days and weeks, these tactics have been used effectively just north of Bakhmut with somewhat lighter casualties than the zerg rushes of the last few months. Its weakness, at least for the moment, is that it remains a slow, grinding tactic that has not yet been combined with a follow on mobile armored breakthrough thrust. This is not a new operational concept. I'd be surprised if it did not occur to the Russian generals, but equipment, personnel and materiel losses are preventing any implementation of an effective breakthrough and pursuit strategy on the battlefield.
TTG