The context: I am UA military engineering and EOD officer. I have served one turn in Donbas prior to the recent invasion.
Recently, I have accomplished a mission which made huge impact on Russian losses and completely screwed up their plans to encircle Lysychansk. Initially, there was intelligence from frontline units that there are Russians on the other side of the river and they gather various vehicles. So, my commander asked me on 6 May as one of the best military engineers to do engineering reconnaissance on Siverskyi Donets river. Together with recon units for backup, I went to explore the area of Hryhorivka and Bilohorivka on 7 May.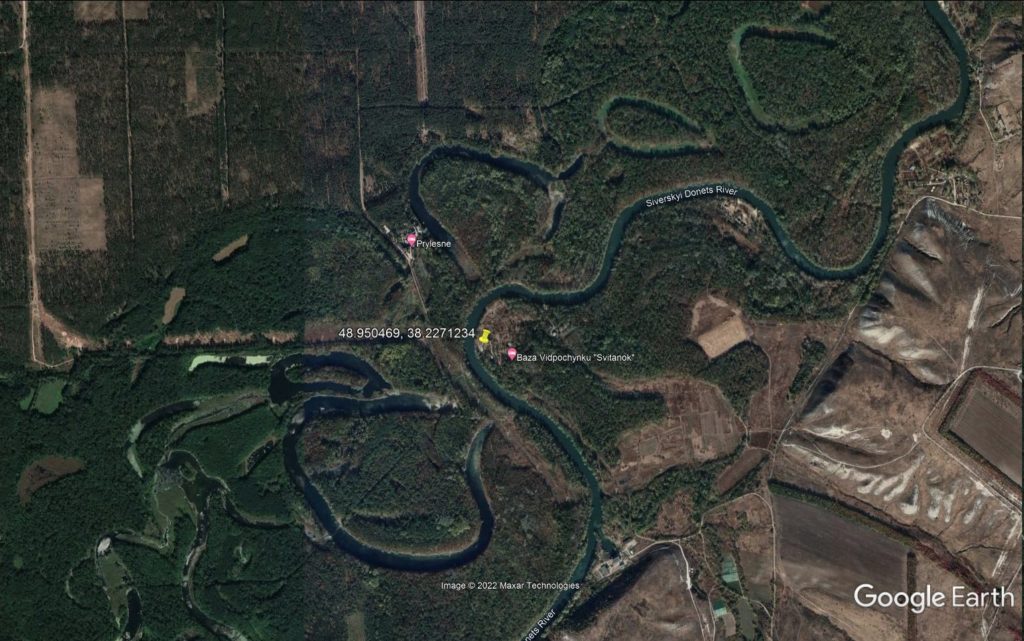 Frontline units in Bilohorivka reported multiple Russian vehicles gathering on the other side of the river. I explored the area and suggested a location where Russians might attempt to mount a pontoon bridge to get to the other side. And, used rangefinders to figure out river is 80m wide, thus Russians would need 8 parts (10m each) of the bridge connected to get to the other side. With that flow of the river, I knew they would need motorized boats to arrange such a bridge, and it would take them at least two hours of work.
Took me a day to check everything. And I had to do it on 8th of May as well. So, reported this information I had to my commanders. Also, I told the unit who observed that part of the river that they need to be on the look out for sound of motor boats.
Visibility was shit in the area because Russians put fields & forests on fire, and were throwing a lot of smoke grenades. On top of that, it was foggy. They had to hear the sound. And they did on 8 May early morning. Right at the place I said. I was there to check it as well – and I have seen with my drone as Russians do the pontoon bridge. Reported immediately to commanders.
Looking back, I think my recon and hints to the river unit made the biggest impact. I outplayed Russian military engineers. Russians attempted to place a bridge RIGHT in the place where I guessed. River unit didn't see Russian units, but was able to hear motor boats and report it immediately. Artillery was ready.
We have been able to confirm Russians mounted seven parts of the bridge out of eight. Russians have even succeeded to move some troops and vehicles over the river. Combats started. About 20 minutes after recon unit confirmed Russian bridge being mounted, HEAVY ARTILLERY engaged against Russian forces, and then aviation chipped in as well. I was still in the area, and I have never seen / heard such heavy combat in my life.
After one day of combat, 9 May morning the bridge was down. Some Russian forces (around 30-50 vehicles and infantry) were stuck on Ukrainian side of the river with no way back. They tried to run away using broken bridge. Then they tried to arrange a new bridge. Then, Aviation started heavy bombing of the area and it destroyed all the remains of Russians there, and other bridge they tried to make. Rumors say it's around 1500 Russian dead.
Their strategic objective was to cross the river and then encircle Lysychansk. They miserably failed. On 10 May pontoon bridge was completely down. That's about time when you started to get all the pictures from the area. For three days enemies try to force river but we fight and stay strong, destroyed bridge, destroyed a lot of orks and orks vehicle. Enemy can't force river. We deflect every attack.
I was on the ground, doing the work there, alongside with other Ukrainian heroes. I did my part and it had significant impact. Proud to serve Ukraine!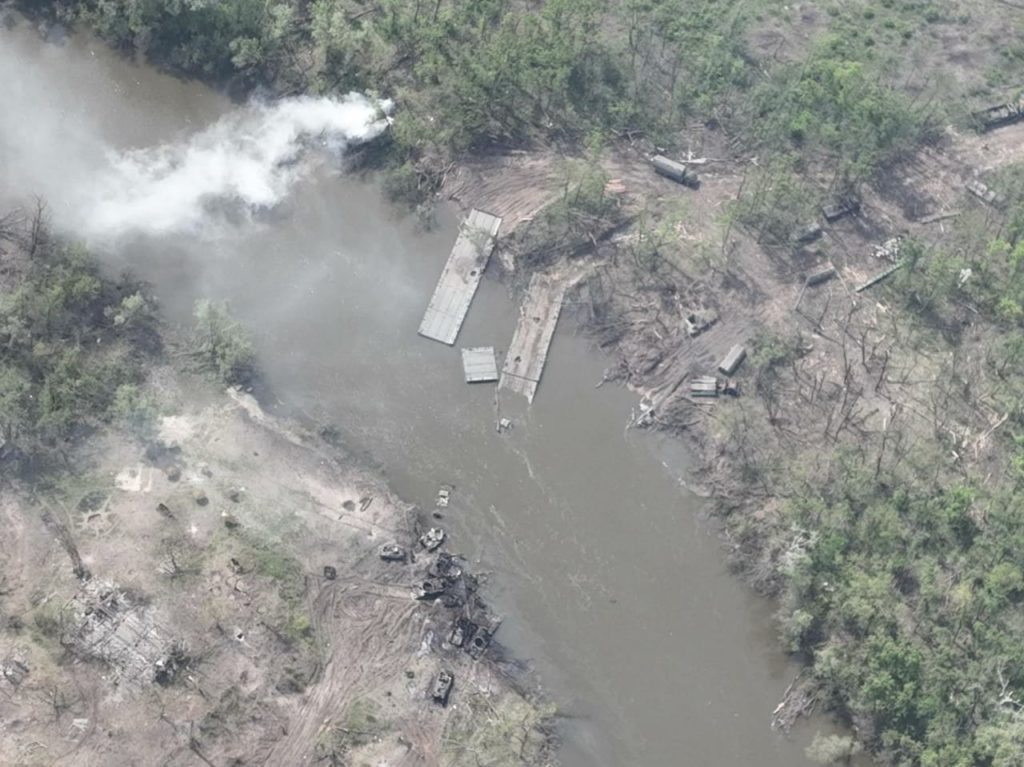 Comment: I think this battle account captures the nature of combat in this war. Note that artillery truly remains the king of battle. The Ukrainian artillery that engaged here was the artillery group of the 17th Tank Brigade. That group consists of two battalions of self-propelled artillery (122mm and 152mm) and a MLRS battalion. It also includes a battalion of 100mm AT guns. The Ukrainians retained the artillery heavy organization from their Soviet heritage. This is something we might want to look at in our combat brigades.
This engineer officer's claim of 1,500 dead Russians is most likely a wild exaggeration. It reflects the adreniline rush and cockiness of a recent victory. Several hundred may be more accurate. Ukraine Weapons Tracker estimated losses from overhead photography. "Russian forces sustained remarkable losses from the failed bridging attempt over the Siverskyi Donets River. We count 6x T-72B-series MBT, 14x BMP-1/2 variants, 7x MT-LB, a tugboat & 5+ other armoured vehicles destroyed/abandoned/damaged. Note precise ID is very hard."
The key to this Ukrainian victory was aggressive and creative intelligence collection, the quick incorporation of that intelligence into an operational plan and continued coordination throughout the battle. The scope of the Russian defeat was marked by the absence of these things. Those poor bastards didn't know whether to shit or go blind.
Note also that Ukrainian airstrikes played a critical role in the battle. Not too shabby after 70 plus days of war. That also takes coordination and competent leadership.
TTG