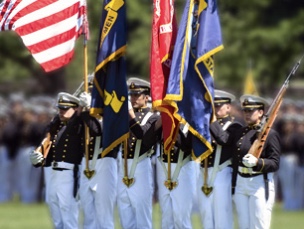 By Robert Willmann
Administrator Joe Biden is terminating the appointments of some members of the advisory boards to the U.S. military academies by a letter dated September 8, 2021–
"On behalf of President Biden, I am writing to request your resignation as a Member of the Board of Visitors to the U.S. Naval Academy. Please submit your resignation to me by the close of business today. Should we not receive your resignation, your position with the Board will be terminated effective 6:00 p.m. tonight. Thank you." [Signed by Catherine M. Russell, director of White House Personnel.]
In the Air Force Times article–
"The dismissed officials from the West Point board are former Trump National Security Adviser H.R. McMaster; former Army Vice Chief Gen. Jack Keane; former Pentagon senior adviser Douglas Macgregor; former U.S. Army North commander Guy Swan III; and West Point grad David Urban, who Trump named chairman of the American Battle Monuments Commission.
"…. Along with Spicer, at least two other Navy board members have also been asked for their resignation: former White House budget director Russ Vought and lawyer John Coale, who is married to former Fox News anchor Greta Van Susteren.
"The Air Force Academy board members include former Trump advisor Kellyanne Conway and Heidi Stirrup, an aide to former Trump adviser Stephen Miller".
The only realistic rationale is a purge of the totalitarian variety.
https://www.airforcetimes.com/news/pentagon-congress/2021/09/08/biden-boots-trump-appointees-from-west-point-advisory-board/