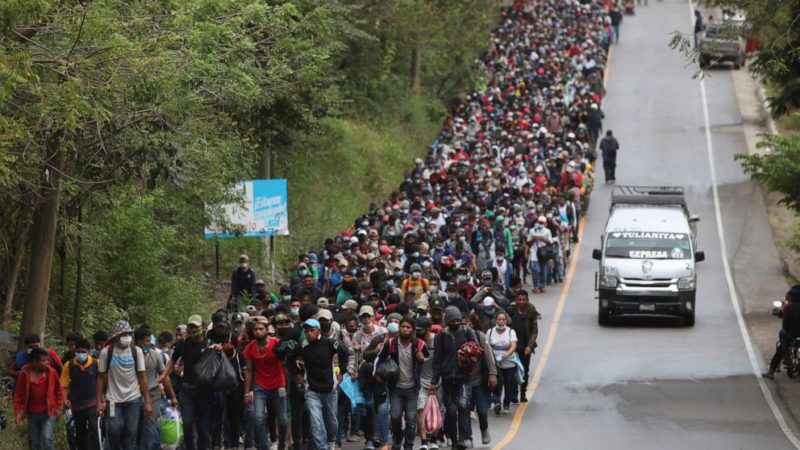 ""It really means that he's going to run on the combination of two energy sources: his own successes and his record and Biden's failure and his record. When that immigrant caravan hits the border and all of a sudden hundreds of thousands of people are coming into the United States, that's going to be an incredible issue for him."
Biden has started to roll back hardline immigration policies implemented by former President Donald Trump and two weeks ago unveiled sweeping immigration legislation that included a proposal for a path to citizenship for roughly 11 million migrants living without legal status in the U.S.
The bill also includes a shorter process to legal status for agriculture workers and recipients of the Deferred Action for Childhood Arrivals program.
"I think Trump is absolutely positioned perfectly," said Morris. "And I love the line, I adore the line, 'Trump puts America first, Biden puts America last.'"" Newsmax
Comment:
I really do think that Joe was never anything like a moderate. IMO he has always thought of himself as a progressive. He just kept quiet about it. He is a supremely ambitious man and when it was advantageous to seem moderate he behaved that way. But now, he is king of the world and can act out his fantasy life in imaginings of various kinds including the "thought" of himself as a heroic defender of the immigrant. You know, like his fighting, bombing Molly McGuire forebears.
He has lost it over this open borders thing. Most of the world's poor and discontented want to come to the US. They are marching toward the SW border in vast numbers. Many of them are not Latinos. Africans, Middle Easterners, South Asians, they all want in. And Joe and company have hung out welcoming signs in every way they could imagine.
There are millions of Americans who lost their employment in the pandemic madness that gripped much of the country last year. Some millions of them are still out of work and Joe Joe is growing their numbers through ideologically motivated pipeline shutdowns. BTW these shutdowns are not motivated by concern for the feelings of Indian tribes. They are motivated by the desire of people like Biden's nominee for the Interior Department to halt the consumption of oil and gas. The economics of such a halt mean nothing to such people. All of them including the ass John Kerry share a college delusion about the mobility of labor pools.
Illegals, sanctuary seekers and criminals are going to pour across the border. Joe will drown in that tide. pl
https://www.newsmax.com/newsmax-tv/biden-immigration-reform-trump/2021/03/01/id/1012022/