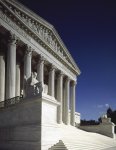 By Robert Willmann
At 8:32 p.m. on Monday, 2 May 2022, the Politico Internet website published a story that the U.S. Supreme Court voted to overturn the prior opinions and decisions that made abortion a federal constitutional right, and included a copy claimed to be a draft majority opinion of the new decision [1]. The tantalizing story could be anywhere along the spectrum from authentic to fiction. The draft opinion has a circulation date of February 10, 2022, and uses the typeface and font, and the formatting style, of an opinion that would be in a book as a bound volume of the United States Reports, the official collection of Supreme Court opinions and decisions.
Whether the opinion is genuine or not, the problem is the reasons for the disclosure. You can think of what the possibilities might be. The most ominous is that the story is agitating propaganda (agitprop), to stir up more conflict within our society and culture. Discord and violence domestically are the handmaiden of totalitarianism.
The yearly term of the court starts on the first Monday in October and continues until the first Monday in October of the following year. The court recesses at the end of June or in early July. Judge Stephen Breyer says his retirement will be effective when the court's summer recess begins [2]. The decision in the abortion case would normally be handed down by or before the summer recess.