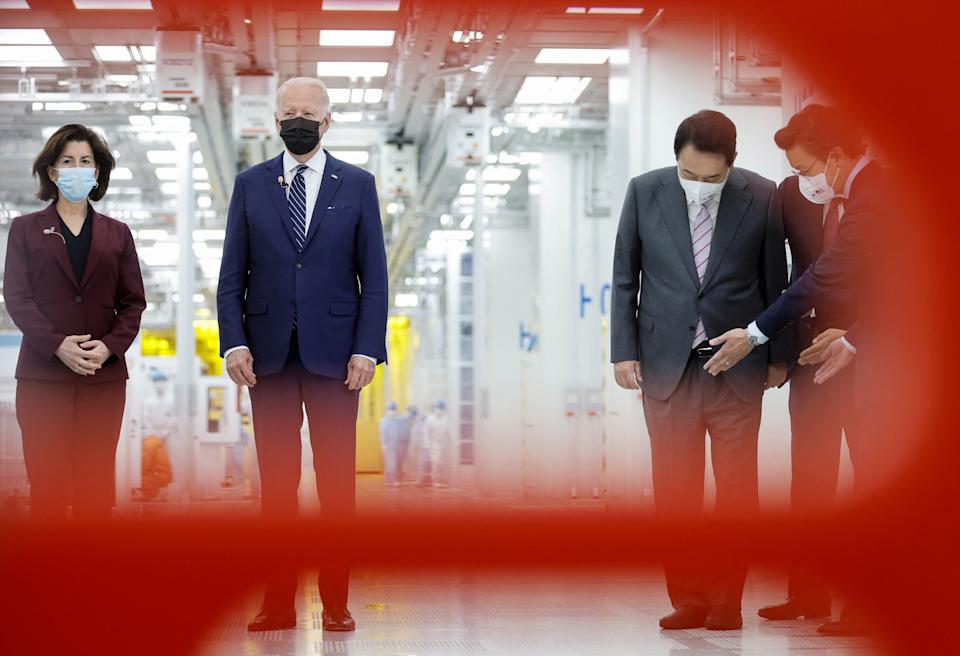 After months of debate, Congress is still slow-walking a bill that would spend over $50 billion on semiconductor manufacturing.
Commerce Secretary Gina Raimondo has been frustrated by the slow pace for months and upped the stakes in a new interview by saying the economic damage could soon become permanent. She says companies that may want to be in the U.S. could shift manufacturing overseas in "months [because] they have to make decisions." During the conversation Wednesday with Yahoo Finance Editor-in-Chief Andy Serwer from the World Economic forum in Davos, Raimondo said the U.S. could lose that business unless the bill passes soon.
The comments come amid a prolonged global chip shortage that has aggravated supply chain problems and battered the semiconductor industry. On Wednesday, chip giant Nvidia's shares were down as much as 9% after it reported a disappointing forecast for the next quarter. "I've talked to maybe four CEOs of chip companies here, they've all said, 'We want to be in the U.S., but we can't wait any longer,'" she says, noting that companies are weighing inducements from countries like Singapore, Germany, Spain and others to build plants there.
https://finance.yahoo.com/news/davos-2022-chip-makers-could-flee-the-us-in-months-unless-congress-acts-commerce-secretary-says-210302098.html
Comment: Yahoo!Finance has done a good job of covering this story since at least January. Seems everybody recognizes the problem and knows what has to be done. Yet the House and the Senate have been mired in philosophical debate over trade issues between their two competing bills. More than anything else, I see this as a major failure of the Biden administration. The all or nothing approach to these massive policy initiatives more often than not, lead to nothing. Raimondo hoped for a final bill to be on Biden's desk by Memorial Day. Now the Senate and House hope to have an agreement by the end of this summer. Congressional staffers think even that will be a Herculean lift.
For God's sake, stop screwing around. Break out the semiconductor incentives, twist arms, break arms, do whatever is necessary to get this done.
https://finance.yahoo.com/news/congress-is-moving-too-slowly-on-semiconductor-supply-crunch-commerce-secretary-says-192719652.html
https://finance.yahoo.com/video/u-commerce-secretary-chip-shortage-155858968.html