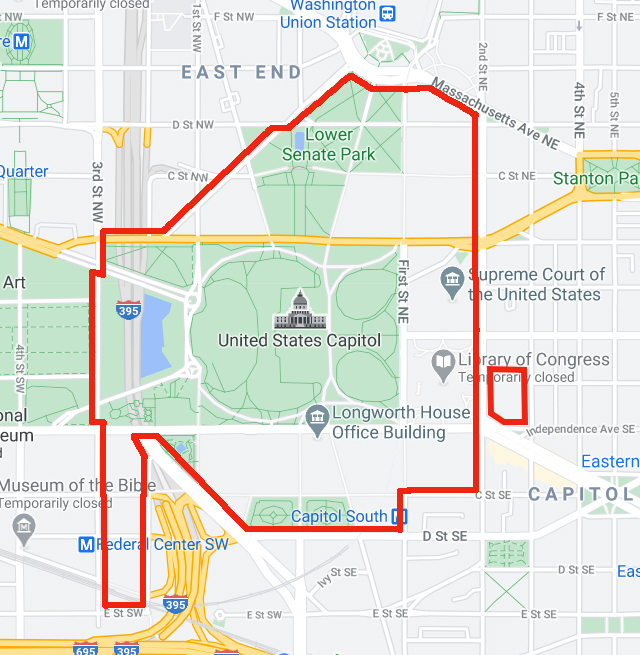 That is a big piece of Washington. What should we call it? "Nancyland?" Maybe so? There are not a great many people living in there behind the wire. There are some apartment buildings between the Longworth House Office Building and the Capitol South Metro Station. It must be hell to live in there. I see that the Monocle Restaurant on D Street just east of Lower Senate Park is inside the wire. They must be doing a landmark business feeding people like Russell Honore for lunch. Too bad the National Guard isn't on a nice fat per diem. I seem to remember that the Monocle had a take-out window on the side of the building. I wonder if the Supreme Court and the Library of Congress like being behind the wire.
Well, pilgrim Turcopoles, the process is well underway. That would be consolidation of power in the hands of the leftist and globalist coalition.
Nancy and Chucky are building themselves the Nancyland citadel, a place where even such as they can feel unafraid of the onslaught of Proud Boys, pissed off ex-GIs, and people from beyond the horizon in Flyover Country. Honore has recommended the creation of a full time, professionalized MP "battalion" (who knows how big) of the DC National Guard to act in Honore's words as a QRF (quick reaction force) for quelling attacks on Nancyland from anything beyond the wire. The DC National Guard being what it is we can expect to see a certain uniformity of complexion and political sentiment amongst such a group. Such a unit would amount to a Capitoline Praetorian Guard that would answer to DoD control only as much as the congressional leaders wished that it do so. There might be another career move in this for Honore as Praetorian Prefect.
And what of the once great land beyond the wire? Joe Joe was shown in a comparison last night on Hannity's show to have grown very feeble. Hannity put up side by side comparisons of Joe in action in 2012 and in 2021. It is not the same man. I don't like either version. The one still extent was filmed the other day asking Nancy what he should do next in a meeting. I have run a few meetings and for the leader to do that is just laughable. So, pilgrims, who is actually in charge?
And then there is the matter of the 1.9 trillion dollar grab bag that K Harris cast her first tie breaking vote for last evening. This is the "American Rescue Plan Act of 2021." All but about 10 % of it is pork for Democrat causes far and wide. This, while a trillion dollars from earlier enactments remains unspent or unobligated. Sooo, what we have in these fiscal facts is a massing of so much funny money that the machine can run on empty for a long time even as the cheap money stimulates the economy in the hope of keeping the masses in line. Anyone who knows anything knows that with both houses of Congress in your pocket you re-program money to do whatever you like with it.
And, then, pilgrims we have the "For the People Act," (HR-1). This piece of work is designed to consolidate electoral power in the hands of the Democrats. It would do that nicely; statehood for the District of Columbia? Two more eternally reliable seats for the Democrats, plus the vote for immature 16 year old children, automatic voting registration, reliance on mail in ballots, etc. Could the Democrats be more obviou?.
Da Plan is clear. pl
https://en.wikipedia.org/wiki/American_Rescue_Plan_Act_of_2021