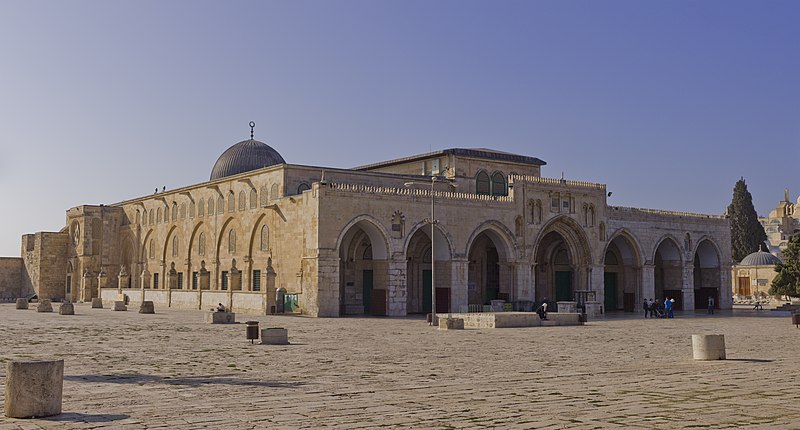 " … a fragile ceasefire holds in the besieged Gaza Strip, days after the end of a brutal 11-day Israeli bombing campaign that killed at least 248 people, including 66 children.
An Israeli police crackdown on worshippers at the Al-Aqsa Mosque compound during Ramadan and the threat of forced expulsions of Palestinians from their homes in occupied East Jerusalem had ignited protests across the occupied Palestinian territories, which were cracked down by Israeli police as well.
Hamas, the group that controls the Gaza Strip, issued Israel a deadline to halt the crackdowns. The deadline passed unheeded, resulting in Hamas firing rockets towards Israel, and Israel launching an intensive bombing campaign on Gaza.
Hours after a truce took effect, Israeli police stormed the Al-Aqsa Mosque compound after Friday prayers.
In recent days, hardline Israeli settler groups have raised calls on social media for Jewish worshippers to enter the premises. The groups' objective is to rebuild the Third Jewish Temple on the grounds of Al-Aqsa Mosque, according to their websites.
But under the status quo affirmed in 1967, only Muslims can pray within al-Haram al-Sharif.
Israeli police spokesman Micky Rosenfeld said the site was open for "regular visits" and that police had secured the area to prevent "incidents", without elaborating, the Associated Press reported.
The Waqf said on Sunday it was the first time Israel allowed Jewish settlers to visit the site since May 4, a week before the latest conflict broke out.
In recent years, increasing numbers of religious and far-right Israelis have visited the Al-Aqsa Mosque compound.
Palestinians fear Israel plans to eventually take the compound over or partition it. The Israeli government has repeatedly said it has no intention of changing the status quo, under which the Waqf oversees the site.
Comment: it seems obvious that Natanyahu's government is intent on provoking Hamas with the goal of renewing hostilities. This is probably quite clever in Israeli politics. Bibi is threatened with prison if he is ejected from office and it would fill him with joy if he can dominate Biden and humiliate him further. pl
https://www.aljazeera.com/news/2021/5/23/backed-by-israeli-police-jewish-settlers-storm-al-aqsa-compound