As world leaders pledge more action on climate change, one so-called solution, burning trees for electricity, could undermine progress.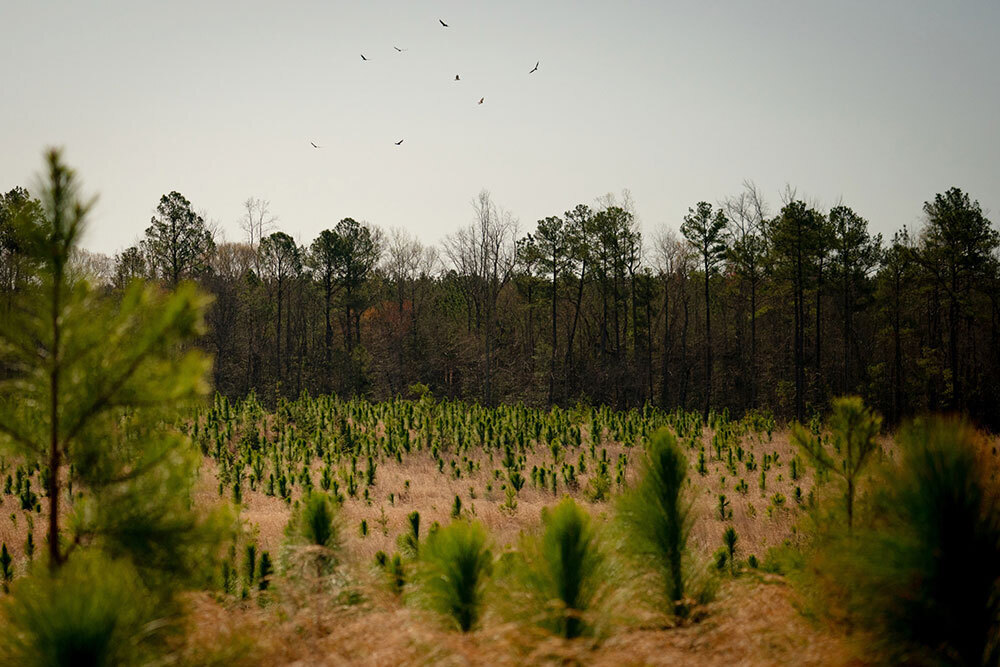 By Robert Kunzig, ENVIRONMENT Executive Editor [National Geographic]
The map my colleague Katie Armstrong made (see below) shouldn't have surprised me. I knew trees in North Carolina and elsewhere were being cut down to be burned in European power plants. But I didn't fully appreciate until I saw Armstrong's map that it was happening all over the Southeast – that there are at least 20 mills from Virginia to Texas chopping wood into tiny pellets, and that millions of tons of the stuff are already being shipped each year from at least 10 different ports in the region. It's as if a giant funnel were draining Southeastern woods into European furnaces, one cigarette filter-sized pellet at a time – all in the name of fighting climate change. And it's all based on a fundamental error, many scientists say.
When the European Union set up its pioneering carbon emissions trading scheme in 2005, it defined wood as a zero-emissions fuel, Sarah Gibbens reports. At first, that seemed to make sense: If a new tree grows to replace the one that was burned, it will absorb carbon from the air to offset the emissions from the burning. "The whole wood pellet industry is basically being driven by this," Princeton researcher Tim Searchinger told Gibbens. Coal-fired power plants in the U.K. and elsewhere have been switching to wood pellets, thereby reducing their emissions fees – but not their actual emissions.
The problem, Searchinger and many other scientists say, is that while trees do indeed absorb carbon, they do so only in the long run – they take decades longer to grow than they do to burn. But in the long run the glaciers will have melted; we don't have decades to wait to cut emissions. And right now, most evidence suggests, burning whole trees puts more carbon in the air than coal, because wood is less efficient. (Pictured at top, young pines in Virginia; below left, the pellets; below right, logs at a North Carolina pellet factory.)
At the COP26 environmental summit that ended last weekend in Glasgow, more than 130 countries signed a pledge to end deforestation by 2030. But the issue of burning trees for energy wasn't on the agenda.
Note: This is an excerpt from a National Geographic email newsletter that I receive daily. A more in depth article is on the National Geographic site. That article also explores the arguments for wood pellets as a replacement for coal.
https://www.nationalgeographic.com/environment/article/europe-burns-controversial-renewable-energy-trees-from-us?
Comment: Do these clowns truly believe burning wood pellets is environmentally friendly and carbon neutral? It's more likely they know full well they're full of crap and are avoiding hard reality and hard decisions while appearing all Greta Thunberg to each other, the press and their publics. Surely they realize burning wood pellets in these former coal fired power plants emits more greenhouse gas emissions than coal at the smokestack. It's worse than all the doublespeak about clean coal. It's regulatory sleight of hand, pure and simple.
Now I love a wood fire on a chilly night in the forest or a crackling fireplace on a cold winter's night. Hell, even a glowing soft coal fire in an East Anglian pub on a rainy evening can keep me content and mesmerized. But I'm under no illusion that these cozy fires are good for the environment. I know burning wood, especially in an open campfire, emits smoke, ash and greenhouse gases. I'm still going to enjoy a campfire from time to time. My youngest brother heats his White Mountains house with a catalytic wood furnace powered hot water system. Of course, he cleared his land, milled his lumber and built that post and beam house out in the boondocks. No one is delivering fuel oil out there and I doubt solar is going to cut it through a cold, dark White Mountain winter. Maybe if he had a good stream through his property he could go hydroelectric, but he doesn't have that stream. And if he did and it froze solid, he'd really be SOL.
As the article states, the transition from coal to wood pellets in European power plants was not addressed at COP26. Coal producers argued for coal. Oil producers argued for oil. Nuclear power was largely ignored much to the chagrin of mostly eastern European countries. India, a country still dependent on coal, called for a greater emphasis on nuclear power's role in reducing greenhouse gas emissions. Referring to the draft COP26 report, India argues that "almost all the chapters contain a bias against nuclear energy". India argues it is an "established technology" with "good political backing except in a few countries". The Czech Republic, Poland and Slovakia also criticized the report's bias against nuclear power. They argue it can play a positive role in delivering most of the UN's development agenda. A few days ago, I saw Macron announce France will soon start building its first new reactors in decades. Why we didn't go to Glasgow and tout the promise of the new small modular reactors (SMRs) is beyond me. Sleepy Joe missed the boat on that one. He could have made a call for more nuclear power over fossil fuels and gotten strong support from India, France and many eastern European countries along with Russia and China. Those last two are already going forward with SMRs. What a blown opportunity.
Greta is right. The politicians at COP26 are all blah, blah, blah.
TTG