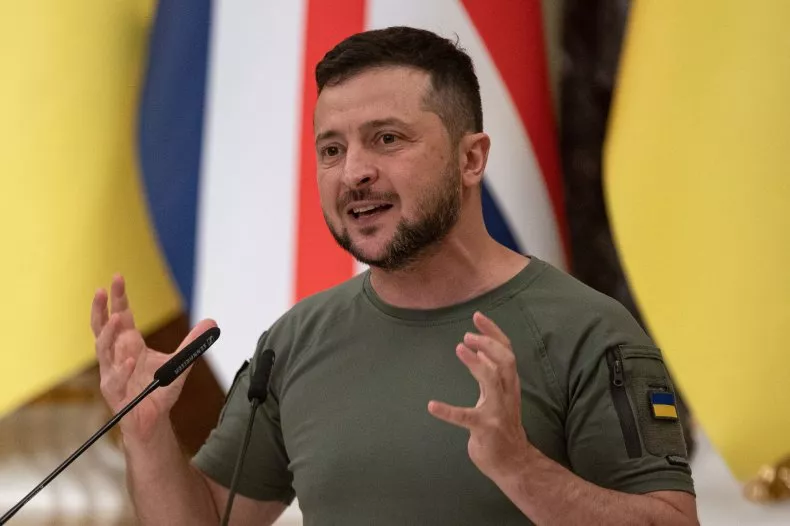 ""Don't wait for Russia's nuclear strikes, and then say, 'Oh, since you did this, take that from us!' Reconsider the way you apply pressure. This is what NATO should do— reconsider the order in which it applies pressure [on Russia]."
It is also worth noting Ukrainian word "удар," which Zelensky used in the address, can mean a literal "strike," but also has figurative meanings, such as a "hit" or a "blow," a nuance that perhaps has gotten lost in the the simultaneous interpreting and the subsequent reporting.
The comments were promptly taken out of context and seized upon by Russian officials who have for a long time lambasted the West for its military support for Kyiv's forces.
Russian foreign ministry spokeswoman Maria Zakharova said on Telegram that it showed that the West was "fueling a nuclear war" and denounced Zelensky as a "monster" who is able to "destroy the planet."
Peskov also weighed in, saying the the U.S. the U.K. and the EU "should pay attention" to Zelensky's comment as they were "de facto" responsible for the statements from Kyiv.
However, Zelensky's spokesman Serhii Nykyforov, stepped in to clarify the president's remarks, saying he was referring to preventive sanctions that should have been applied to Russia before its full-scale invasion.
He said in a Facebook post that the "nuclear hysteria" had "gone a little too far," and that Zelensky had been speaking about action "in the period before February 24."
Comment: So, the answer is NO. pl
Fact Check: Did President Zelensky Call on NATO to Start Nuclear War? (newsweek.com)