Hölderlin's Ode to The Gods (Die Götter)
Translated by Steven J. Willett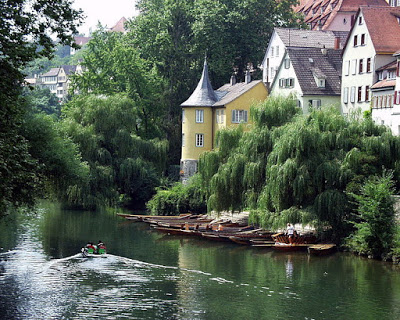 Here is a picture of Hōlderlin's Tower in Tübingen
Note: This poem uses the accentual version of the alcaic strophe. For those who might want to learn the meter for recitation–always important in understanding a poem–may I recommend Fritz Schlawe, Neudeutsche Metrik (Stuttgart, 1972).
You silent Aether! always you prove how bright


my soul is struck with pain, and ennobles me


   to bravery before your sunbeams,


      Helios! rousing my heart to anger.






You kindly gods! man poor is, and knows you not,


in brutal breast his discords will never rest,


   and night is world to him and not a


      pleasure that prospers or song alone his.






But you, with your perpetual youth, sustain


in hearts who love you, giving them childish mind,


   when sorrow comes or wandering error


      never commit to their genius trust. 








Die Götter
Du stiller Aether! immer bewahrst du schön

Die Seele mir im Schmerz, und es adelt sich

Zur Tapferkeit vor deinen Strahlen,

Helios! oft die empörte Brust mir.

Ihr guten Götter! arm ist, wer euch nicht kennt,

Im rohen Busen ruhet der Zwist ihm nie,

Und Nacht ist ihm die Welt und keine

Freude gedeihet und kein Gesang ihm.

Nur ihr, mit eurer ewigen Jugend, nährt

In Herzen, die euch lieben, den Kindersinn,

Und laßt in Sorgen und in Irren

Nimmer den Genius sich vertrauern.