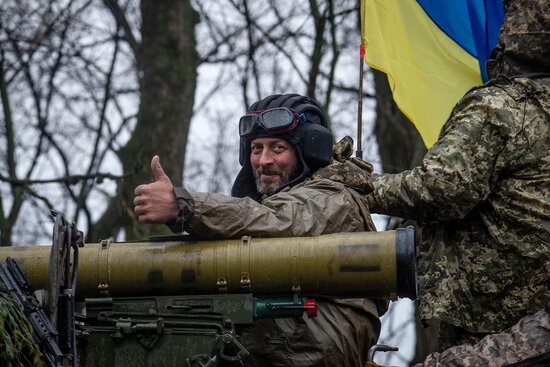 I compared my list of known Ukrainian combat brigades with a list of Ukrainian brigades currently at the front.
Result: Ukraine has 30x combat brigades, 6x artillery, 5x territorial defense (TDF), and 4x national guard (NG) brigades in the rear – that's 155,000+ troops. 
As combat brigades I count:
15x mechanized
3x motorized
3x tank
2x marine
1x jaeger
1x mountain assault
1x air assault
4x offensive guard
Besides these and the 6x artillery brigades I count:
1x air assault regiment
1x special forces regiment 
2x MLRS regiments
This doesn't mean that all these units will be taking part in the Ukrainian spring offensive. I.e. the TDF and NG brigades are guarding the border with Belarus and Moldova. Some of the combat brigades are reserve units along the front, while some are in the rear to rest and get rebuild after fighting in Bakhmut.
And as Ukraine is rotating its troops in the difficult front sectors, some of the combat brigades have likely rotated into the front by now. We also know that the West is training/equipping at least 9x of the 30x brigades for the spring offensive, while Ukraine is training 3x.
But the Pentagon leak omitted the brigades being equipped by Sweden, Portugal, Spain, Italy, Romania, Greece, Bulgaria, Turkey, Croatia, Norway, Denmark, Finland, Lithuania, Latvia, Belgium, Slovakia, etc. Therefore we can assume that the Ukrainian spring offensive will consist of at 20+ brigades:
9x NATO trained (7x mechanized, 1x marine, 1x air assault)
3x Ukrainian trained (likely: 1x tank, 2x mechanized) 
8x offensive guard (4x of these recently taken out of the front for rest and refit)
As for the artillery brigades: 2x have M777 howitzers, 1x has PzH 2000 self-propelled howitzers, 1x has M270 MLRS… and the other two: maybe Archer? maybe Zuzana 2?
Most of this information is publicly available: @Militarylandnet collected a lot of it from the social medial pages of Ukrainian units, while @JominiW published maps with the known Ukrainian units at the front.
This info is of little use to the Russians. Ukraine can mass forces between Dnipro and Donetsk and strike either South, or South-East, or East with very little warning for the Russians. And once the offensive gets underway 50,000+ Ukrainian troops will barrel down on 1-2 km of Russian front. With 30-40,000 follow-up troops.
My tip to Russian troops: start shooting your officers and flee to Russia. It's your only chance. 
https://twitter.com/noclador/status/1649552442961321990
Comment: This is the Ukrainian order of battle as determined by Thomas C. Theiner (@noclador). He's a former Italian artilleryman, who has lived and worked in Kyiv since 2009. Theiner is listed as an expert on NATO Cold War land forces and NATO Cold War defense strategy. I don't know about that, but his writings make sense to me for the most part.
What strikes me about this "guesstimate" is the proportion of the Ukrainian Army that is not now in the fight. If this is right, the Ukrainians are currently holding the Russians off with less than half their forces. That's one hell of an economy of force move and very encouraging. This coming counteroffensive is not a final roll of the dice like the 1944 Ardennes offensive was. There could be more than one this year. I don't know how the next counteroffensive will unfold or how successful it will be, but I see Ukraine continuing the fight for as long as she needs to.
TTG