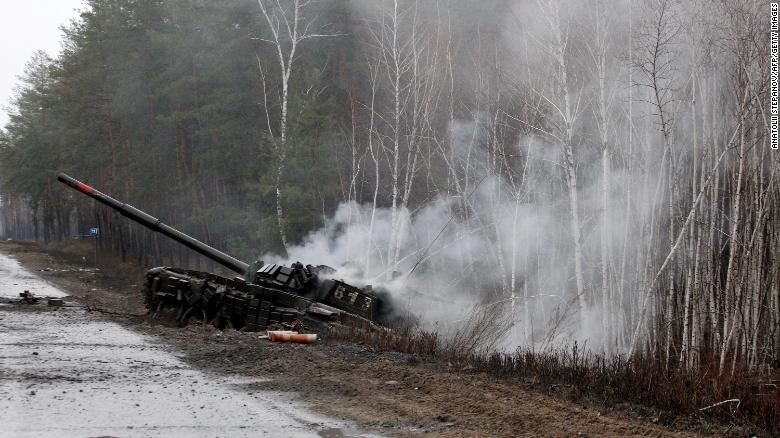 "Thousands of Russian troops have been killed in Ukraine since Russia's invasion began nearly one month ago, US and NATO officials told CNN this week, and Russia is now struggling to resupply those forces as it faces sagging troop morale and fierce Ukrainian resistance.Russia's offensive to capture Kyiv has largely stalled, NATO officials said, and on Thursday Ukraine said it launched a counteroffensive aimed at gaining decisive control of the city's suburbs.US and allied intelligence assessments vary widely as to exactly how many Russian forces have been killed to date, sources familiar with the intelligence tell CNN. But even the lowest estimates are in the thousands.
One such assessment found that approximately 7,000 Russian troops have been killed so far, said one of the sources. But that figure, first reported by The New York Times, is on the higher end of US estimates, which vary because the US and its allies have no precise way of counting casualties. Some estimates place the number of Russian troops killed in Ukraine at about 3,000, whereas others suggest more than 10,000 have been killed.
So far, the number has been calculated largely via open-source reporting from non-governmental organizations, the Ukrainian government, commercial satellite imagery, and intercepted Russian communications. US officials have also extrapolated numbers of dead based on the number of Russian tanks that have been destroyed, the sources said.Regardless of the precise number, US and western intelligence officials have observed that Russia is having difficulty replacing its forces, which is having a significant impact on Russian troop morale, senior NATO officials said on Wednesday." CNN (the Clinton News Network)
Comment: The Russian forces brought mobile crematoria with them into Ukraine, presumably to destroy their own dead. Many others have been abandoned where they fell. What kind of army does things like that? The Putin government is going to have to live with the political result of that when the information soaks in back in Holy Russia. The spectacle of black clothed cops beating and kicking women protestors in the street will have an effect.
Where do they think they are, Ottawa? pl
Mounting Russian casualties in Ukraine lead to more questions about its military readiness – CNN