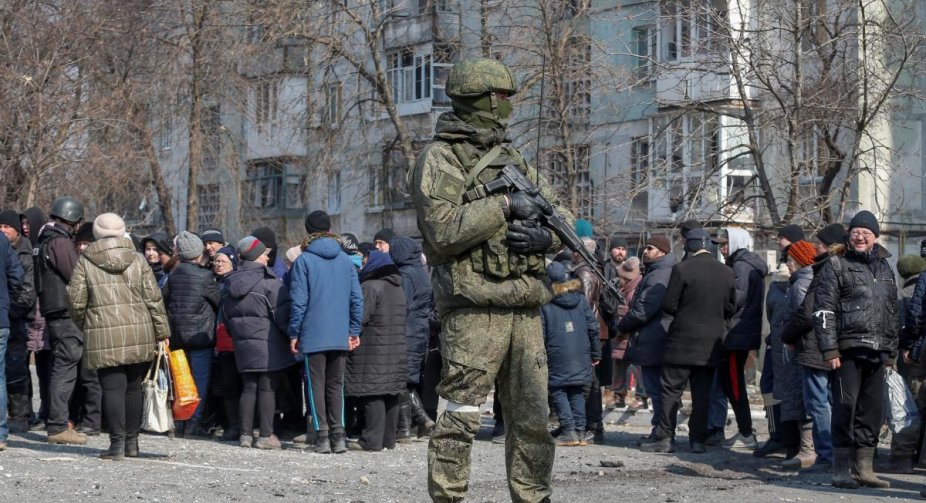 Russia is depopulating parts of eastern Ukraine, forcibly removing thousands into remote parts of Russia
Washington (CNN) Hundreds of thousands of Ukrainians have been processed through a series of Russian "filtration camps" in Eastern Ukraine and sent into Russia as part of a systemized program of forced removal, according to four sources familiar with the latest Western intelligence – an estimate far higher than US officials have publicly disclosed.
After being detained in camps operated by Russian intelligence officials, many Ukrainians are then forcibly relocated to economically depressed areas in Russia, in some cases thousands of miles from their homes, and often left with no means of returning, sources said.
Although some Ukrainians have voluntarily entered filtration camps to try to escape the fighting by entering Russia, many have been picked up against their will at check points and in bomb shelters. After spending an average of around three weeks at the camps — where sources and eyewitnesses say they are held in inhuman conditions, interrogated and sometimes tortured – some are sent across the border into Russia and given state documentation.
From checkpoints in Rostov and other Russian towns, many Ukrainians are then relocated to far-flung corners across Russia, the sources said. In some cases, Ukrainians have been sent to Sakhalin Island, a distant spit in the Pacific Ocean on Russia's far east — 10,000 miles from the Ukrainian border. If they are fortunate, sources tell CNN, Russia will provide housing in residential areas and perhaps a Russian SIM card and a small amount of money.
Others are simply dropped off with nothing and expected to survive on their own. Still other Ukrainians are stuck in filtration camps inside Russia, close to their own homes, with no way to leave, other sources added.
Taken together, western intelligence reporting described by CNN sources offers new details that go beyond scattered eyewitness accounts from the region and paints a disturbing picture of a comprehensive resettlement process.
https://www.cnn.com/2022/05/26/politics/ukraine-filtration-camps-forcibly-remove-russia/index.html
Comment: The title phrase is "to Siberia" in Lithuanian. It was seared into my mind as I read a letter to my grandfather from his brother still in Lithuania. It was to inform my grandfather that his other brother was sent to Siberia. The letter was written in the late 1950s. I read it in the early 1960s. That phrase remains seared into my mind.
My great uncle wasn't part of the mass deportations from Lithuania when some 280,000 Lithuanians were deported to remote settlements, labor camps and Gulags across Siberia. He was deported to a Gulag for his dissident activities. He was never heard from again.
Deportation was a widespread Soviet practice across the Baltics and Poland. Many Finns and Germans also ended up in Siberia on orders from Moscow. The Tatars were deported from Crimea. Other peoples within Moscow's reach were sent to Siberia in even larger numbers. In 1956, Nikita Khrushchev declared that the earlier massive deportations were arbitrary and criminal acts. Many of the deported were rehabilitated ant allowed to return home. That change in Moscow policy never helped my great uncle. He was a troublemaker and the Gulags remained. The Tatars were also never allowed to return to Crimea.
Now it is the practice of deportation that has been rehabilitated by Moscow. Earlier this month, Sergei Shoigu announced that more than 1.37 million Ukrainians have been "evacuated" to Russia. Given the devastation in occupied Ukraine, some of these deportations can be seen as humanitarian in nature. Some deportations are even voluntary. However, the bulk of them are done in the style of Stalin and Beria. Especially sinister is Russia's Presidential Commissioner for Children's Rights Maria Lvova-Belova boast that more than 190,000 children had arrived in Russia from Donbas by early May, including about 1,200 coming from orphanages in the DPR and LPR. I guess that's one way to replace the war dead and the many still fleeing Putin's Russia.
TTG