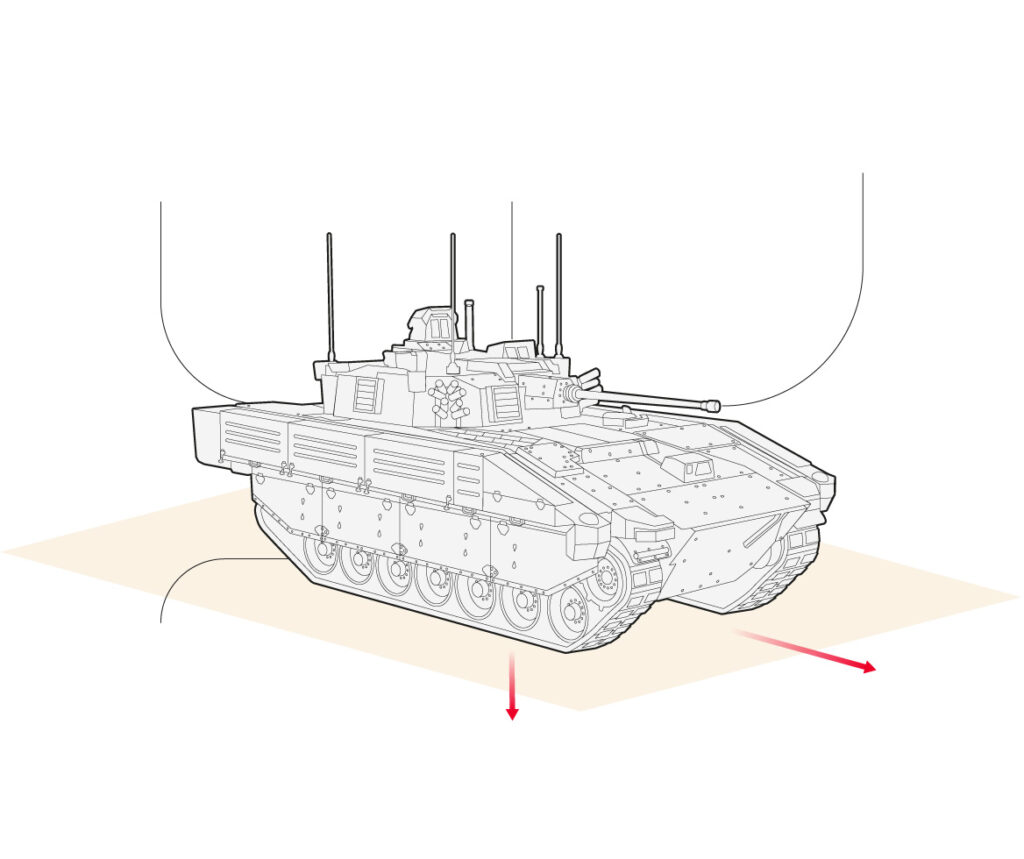 "To really understand the Ajax debacle, you need to go back decades. Officially known as an armoured reconnaissance vehicle, Ajax is a replacement for Scimitar, a smaller, lighter tank, which entered service in 1971, and whose armour, crew protection, and firepower was looking outdated as long ago as the Desert Storm campaign of 1991. As a result, in the decades since then, a succession of replacements were commissioned, then abandoned, as the certainties of Cold War land warfare gave way to asymmetric conflicts against insurgent foes, and the emerging promise of new digital technologies outshone the more prosaic allure of armour.
'After the Cold War the Army struggled to know what role it should play and what kit it should have,' says Trevor Taylor, a procurement expert at the Royal United Services Institute.
The Scimitar succession started in 1992 with Tracer – the Tactical Reconnaissance Armoured Combat Equipment Requirement, junked nine years later. That was followed by the Future Rapid Effects System (Fres), a huge order for 3,000 armoured vehicles covering 16 battlefield roles, which was cancelled in 2008 – the same year the first Fres vehicle was supposed to enter service, at which point officials conceded they were still at least seven years from doing so.
In July 2010, the MoD signed a contract with the American manufacturer General Dynamics, for what was to become known as Ajax, whose combination of firepower, manoeuvrability and armour would make it a step change from Scimitar. But Ajax has suffered the same fate as its predecessors. Manufactured in Wales, it was meant to enter service in 2017; its deadline was soon put back to 2020 as specifications changed. In 2019, in anticipation of its delivery, the Household Cavalry, which will be using Ajax, moved the regiment permanently from its urban location in Windsor to Salisbury Plain to accommodate the heft of the tanks. As yet, they are yet to materialise.
Now there is talk of 2025, but in reality no one knows for sure if Ajax will ever see a battlefield at all. Rather, it has become the latest casualty in a record that, for almost a quarter of a century to 2020, saw not a single new armoured vehicle from the core procurement programme enter operational service with the Army. How has it all gone so wrong for so long? And what has gone wrong with Ajax in particular?
When it comes to Ajax, says Taylor, the very chronology of disaster that preceded it was in itself a major problem. 'The last 25 years have been a succession of procurement attempts abandoned for something else. So at the MoD that makes you determined to make Ajax happen – and in a hurry.' :"
Comment: The same kind of thing has gone on this slide of the pond. The GWOT confused ground forces leadership and paralyzed acquisition thinking until recently. This was complicated by anti-Army leaders like Rumsfeld, who never escaped his youthful experience as a naval aviator.
It is very easy to screw such R&D and procurement processes up. When I was a student at the War College, I had a LTC classmate who was probably the most Type A man in the class. He was a frightening creature, consumed by ambition. He was directed by the medical staff to study me, the most Type B person in the class and how I acted. He would ask me thigs like, "what are you doing?" The answer to this was something like "thinking." or "how did you get here?" Answer, "beats me. I didn't pick me." Or "why do you wear a watch?" Answer, "You expect me to do so and I don't want to miss appointments."
This poor man had been the working level project officer for something called the "Sgt York division anti-aircraft gun." It was a great idea, a mobile radar turret driven two barreled Bofors mounted on an obsolete tank chassis. Great idea.
Trouble was that prototypes couldn't hit a damned thing, and no matter how much they fiddled with it, it still couldn't hit anything in the air.
A lot of money had been put into the project, and this guy was kicked to the curb as the failure became evident. They let him stay on long enough to get enough time to retire. pl
Inside Britain's £5.5 billion military disaster (telegraph.co.uk)