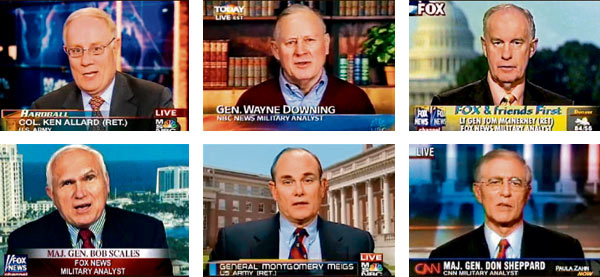 After watching the vacillating performance of talking head generals on TeeVee over the Ukraine matter, the question arises as to whether or not they are being "pumped up" by the Pentagon on a regular basis.
In the Rumsfeld era this was routinely done. Some people were briefed in private, but others were invited to meetings with 20 or 30 others. These were presided over by Rumsfeld himself backed up by a couple of advisers. I was invited to one of these. I asked a couple of awkward questions to which Rumsfeld replied that he did not know the answers. I was not invited again, but that was all right as a number of those briefed talked to me regularly.
Kellogg, Keane, Clapper, Petraeus, etc. IMO these people are probably on the briefing list.
BTW Jennifer Griffin of Fox should really be paid by DoD rather than Fox. Her enthusiasm for "the narrative" is impressive. pl
https://slate.com/news-and-politics/2011/12/pentagon-pundit-scandal-remember-how-it-turned-retired-generals-into-media-shills-it-could-happen-again.html