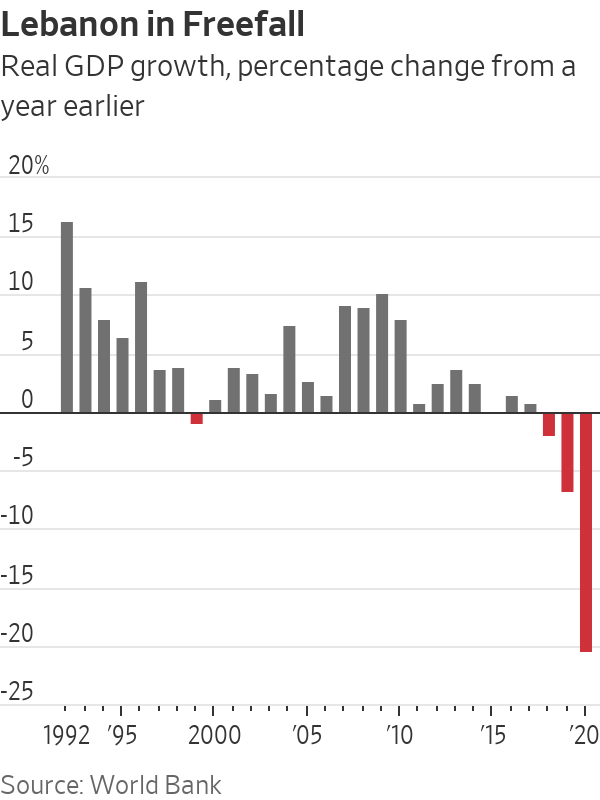 "In recent decades Lebanon has been a place of relative calm in a turbulent region. Now it is living through a once-in-a-century economic meltdown.
The collapse, rippling through all levels of society, has been accelerated by the lasting effects of the explosion in the Port of Beirut one year ago today.
Power outages have become so frequent that restaurants time their hours to the schedule of electricity from private generators. Brawls have erupted in supermarkets as shoppers rush to buy bread, sugar, and cooking oil before they run out or hyperinflation topping 400% for food puts the prices out of reach. Medical professionals have fled just as the pandemic hammers the country with a new wave of infections. Thefts are up 62% and murder rates are rising fast.
In May, Gaith Masri, a 24-year-old law student and gas-station attendant from northern Lebanon, was shot dead after a scuffle with a customer when he refused to go beyond a rationing limit. "He was killed in cold blood, just because he wouldn't fill up someone's tank," said Firas Masri, Gaith's cousin. A month earlier, a gasoline smuggler had shot their uncle in almost the same spot for also refusing to go beyond the maximum allowance the station had set. He may never walk again.
The World Bank, measuring the contraction of GDP per capita—which was down about 40% from 2018 to 2020—and the estimated time it could take for Lebanon to recover, reported in May that the country's economic crisis could rank among the top three in the world in the past 150 years.
"At some point the crisis gets so bad that even the building blocks of a recovery end up disappearing," said Mike Azar, a debt-finance expert who has advised U.S. government agencies. "You never get back to the kind of economy that you had before."" WSJ
Comment: It must have been ten years ago that I stood alongside my driver in the street outside Beirut International Airport watching a mob coagulate against the airport authority. "Is there any hope for this place?" he asked despondently. He was an educated man.
"Leave," I told him.
The foreign policy of the US, driven by Zionist imagined interest, has contributed a lot to Lebanon's disaster. The Israelis think what has happened to Lebanon is funny, more of the disarray they wish to see in any country that does not submit to them.
Hizbullah? Anathema. Any participation in a Lebanese government is anathema. Say what? Bullying! They win elections to parliament.
Stealing money from the public treasury, selling personal licenses for telecommunication companies. Corruption! Corruption is Lebanon's middle name.
Money laundering on a grand scale, Corruption!
"Leave." I told him. pl
https://www.wsj.com/amp/articles/lebanons-economy-still-reeling-from-beirut-port-explosion-falls-off-a-cliff-11628089525