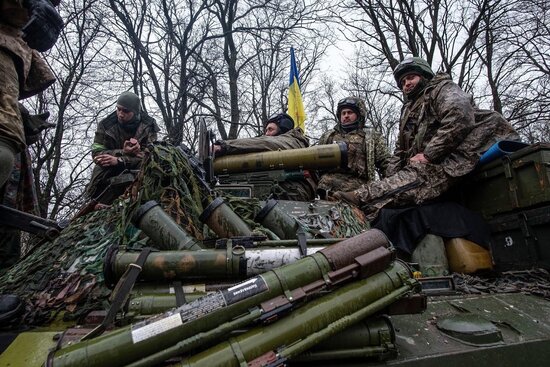 The Ukrainian counteroffensive north and east of Kharkiv city secured further gains in the last 24 hours and may successfully push Russian forces out of artillery range of Kharkiv in the coming days. Ukrainian forces captured several settlements north and east of Kharkiv in the last 24 hours, reducing the ability of Russian forces to threaten Ukraine's second-largest city. This Ukrainian operation is developing into a successful, broader counteroffensive—as opposed to the more localized counterattacks that Ukrainian forces have conducted throughout the war to secure key terrain and disrupt Russian offensive operations. Ukrainian forces are notably retaking territory along a broad arc around Kharkiv rather than focusing on a narrow thrust, indicating an ability to launch larger-scale offensive operations than we have observed so far in the war (as Ukrainian forces predominantly retook the outskirts of Kyiv following Russian withdrawals rather than in a major counteroffensive). The willingness of Ukrainian forces to concentrate the forces necessary for this scale of offensive operations, rather than deploying these available forces to defenses in eastern Ukraine, additionally indicates the Ukrainian military's confidence in repelling ongoing Russian operations to encircle Ukrainian forces in the Severodonetsk area. While Ukrainian forces are unlikely to directly threaten Russian ground lines of communication (GLOCs) to Izyum (as they run further to the east of recent Ukrainian advances), Ukrainian forces may be able to relieve Russian pressure on Kharkiv and possibly threaten to make further advances to the Russian border.
ISW cannot confirm initial reports of a Ukrainian Neptune anti-ship missile strike on the Russian frigate Admiral Makarov on May 6.[1] Pentagon Spokesperson John Kirby said the United States cannot confirm the reported strike and added "we've been looking at this all day." ISW will update this assessment with further information as it becomes available.
https://www.understandingwar.org/backgrounder/russian-offensive-campaign-assessment-may-6
Comment: Concerning the sinking of the Makarov, just hold your horses. Not only did John Kirby throw cold water on the news, but Ukrainian presidential advisor, Oleksiy Arestovych said this in an interview today.
"No one hit it, Mark. There is no verified information. There are lots of messages, but I reminded a hundred times that… and I won't get tired of reminding that in the last 3-4 weeks the character of the info war has changed radically. A lot of winning' information is thrown at us which is then not coming true and everyone embarrasses themselves – even respected Western agencies, Turkish, and so on. At the moment there is no verified information about something getting hit available to official Ukrainian authorities. It continues being verified. And we remember – regarding 'Mosvka, how long were we figuring it out? 3 or 4 days?"
No matter. The news from the Kharkiv front is good enough. The Ukrainian Army concentrated enough forces to launch a broad counteroffensive. The pendulum of initiative is beginning to swing in Ukraine's favor. Not only will this relieve Kharkiv from constant bombardment from Russian artillery, it may also threaten, with drone observed artillery fire, the main supply route from Belgorod to all those BTGs concentrated at Izyum. I'm sure soon we'll hear Moscow telling us that, like Kyiv, they never intended to surround or take Kharkiv, either. It was all just a clever ruse.
In other news, things are still blowing up, falling down and catching fire all over Russia. Perhaps the natives are getting restless.
TTG