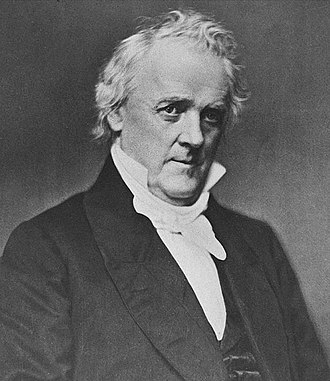 James Buchanan struggled for 4 years to hold the Union together through compromise. He failed. In the election of 1860, the non-Republican vote split 3 ways electing Lincoln by a plurality in the Northern states. Lincoln received no votes from the South in the electoral college. South Carolina seceded the month after Lincoln was elected. Six more states seceded before Buchanan left office.
After Lincoln's election, Buchanan tried to secure federal property in the South, but there was very little available force. There were 16,000 officers and men in the US Army in 1860. More than half were serving on the frontier. There were 1800 officers and men in the USMC in the same year. Shipboard detachments accounted for most of those.
When Lincoln took office he quickly called for a mass of volunteers from the states to achieve a much larger force. His call for 100k from Virginia was the immediate and proximate specific cause of Virginia's secession. The ensuing civil war was America's bloodiest war.
Biden in contrast seems intent on dividing the country. He despises half the electorate and openly speaks of them as enemies of "democracy." He does not support the independence of the judiciary, and the tri-partite form of the federal government. He does not support US immigration law. He has wrecked a previously flourishing economy He is supporting China against US interests.
Yes. It is unfair to say that Buchanan was as bad a president as Biden. pl