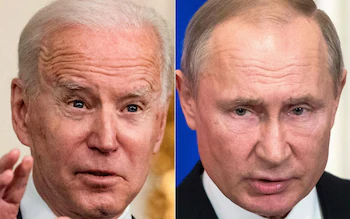 "From Moscow's point of view, Nato is not a mutual defence pact dedicated to European security, but a Cold War relic animated by an anti-Russian agenda.
When former Warsaw Pact members joined the potentially hostile alliance, Mr Putin accused Washington of putting "frontline forces on our borders." It was not about European security, but "a serious provocation," he said.
That sounds so mad to Western ears it is often difficult to take seriously. And the refusal of George W Bush and Barack Obama to do so caused immense annoyance in the Kremlin. "
No one wants World War Three, after all. And we may as well come to terms with the reality that Russia is also a great power whose interests cannot be ignored.
"Russia is indeed a great power, and the complacent assumption that it would simply decline into obscurity has certainly muddled some Western thinking about it.
But Mr Putin's arguments do not wash in Kyiv, Warsaw, and Riga.
In those capitals, Mr Putin's "security" concerns are cover for his barely concealed determination to destroy Ukraine as a state – which he believes is not a real country – and rebuild, if not the Soviet Union, then certainly the Russian empire and an undisputed sphere of influence in east and central Europe.
To them, one-sided concessions to Mr Putin's complaints about Nato would not be peace-making – it would mean appeasement and a body blow to the credibility of Nato itself.
Ukraine knows it has no short or even medium-term prospect of joining Nato. Its leaders and its soldiers are well aware that in the event of a Russian invasion, it will be Ukrainians doing the fighting and dying – not Nato troops. " Telegraph
Comment: NATO and Allied Command Europe (ACE) were built to resist a Soviet invasion of Western Europe by serving as a "trip-wire" that would delay the success of such an operation long enough to make likely, from the Soviet POV, a massive US nuclear retaliation against the Warsaw Pact. This strategy worked well.
When the USSR disintegrated, that purpose ended as well, but the jingoes in the Borg (US foreign policy establishment) refused to accept the end of the necessity for such an alliance and when the search for a new unifying enemy failed, they decided to look to the East. The old enemy in the form of the Russian Federation would have to do.
Having made that adjustment in goals, they began to drive the boundaries of the NATO alliance farther and farther east.
This has been a "grand success," and it has now brought us to a point at which Wicker, the cretin senator from Mississippi, has threatened Russia on TeeVee with a massive US troop presence in Ukraine and a putative "first use" of nuclear weapons if Russia does not "behave."
I ask you, pilgrim turcopoles, what would have been the reaction of the US if Canada or Mexico had wanted to join the Warsaw Pact? You know what our reaction to the Soviet missile presence in Cuba was. We damned near went to war against the USSR over it.
Sober up idiots! The real world is not a plaything to be wagered over by Political Science obsessed clowns and right-wing jingoes like Wicker and some of the Foxnews nuts like Bartiromo and Kilmeade. pl
https://www.telegraph.co.uk/world-news/2021/12/09/analysis-joe-bidens-offer-nato-talks-avert-russian-invasion/