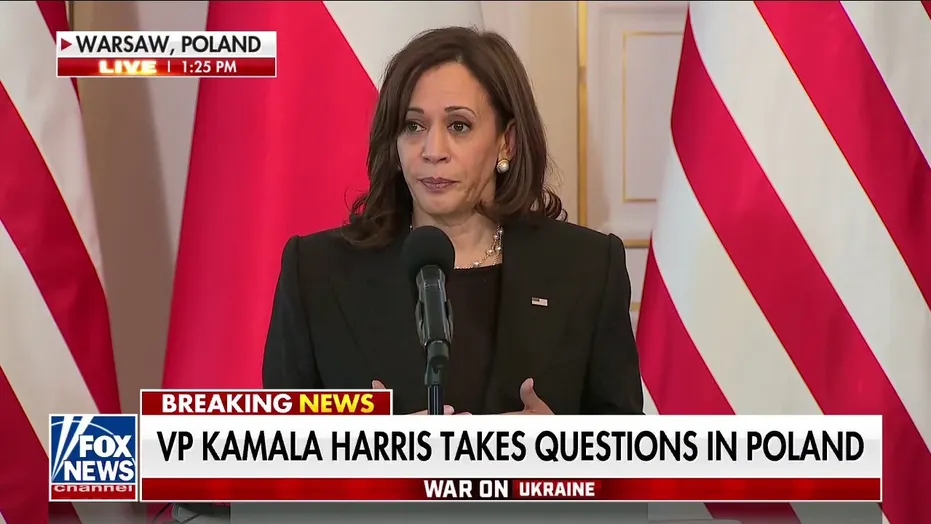 "Vice President Kamala Harris was ridiculed for appearing as a deer in headlights in response to a question on how the United States could assist in the plight of Ukrainian refugees during the Russian military invasion, even appearing to look to Polish President Andrzej Duda for help.
A reporter pressed Harris on the Ukrainian refugee crisis during her joint press conference with Duda in Poland Thursday, saying that according to a colleague's reporting, Poland would not be equipped to handle an influx of Ukrainian refugees. Her colleague said that, in its current state, the refugee system in Poland will collapse because it's an improvised system that can work for "maybe two weeks, but not indefinitely."
"I'm wondering what the United States is going to do more specifically to set up a permanent infrastructure and, relatedly, is the United States willing to make a special allocation for Ukrainian refugees?" the reporter asked Harris. The journalist then asked Duda if he had specifically asked the U.S. to accept more refugees.
Harris did not appear eager to answer the inquiry, turning expectantly toward Doda and saying, "A friend in need is a friend indeed," before laughing for several seconds. Duda eventually capitulated and answered his question first, saying he had asked Harris to help speed the process of Ukrainian refugees obtaining U.S. visas in order to stay with family in the States."
Comment: This woman sounds and acts like a second-grade teacher trying desperately to deal with situations for which she is totally unprepared. She seems to have just discovered that there are actual countries in Europe.
Well, she is Joe's insurance policy. Could we face the prospect of having her for president? pl
Kamala Harris ripped for looking to Polish president for help on question about Ukrainian refugees | Fox News