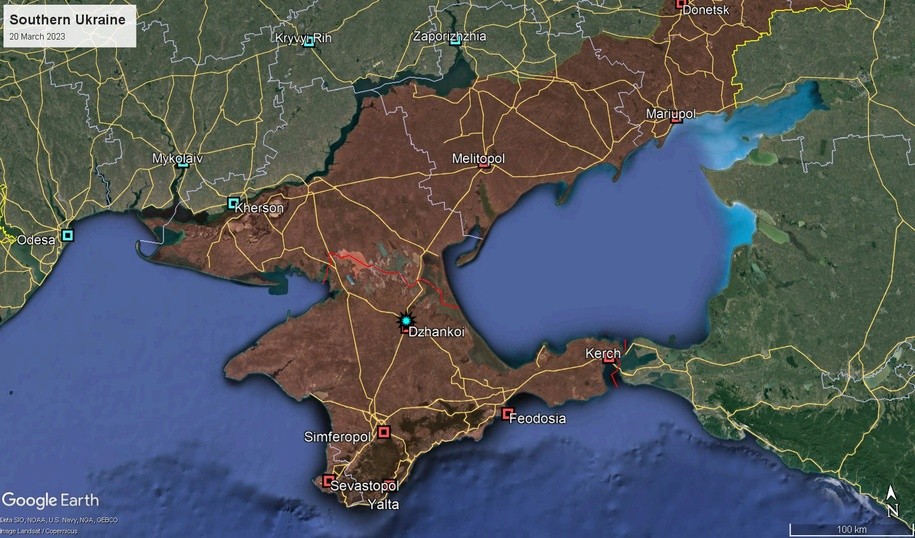 A top Ukrainian official on Friday said that no weapon allowed by international law was off the table when it comes to attacking Crimea and hinted that some recent explosions there might be the result of experimental weapons. "Crimea is the territory of Ukraine, and we will test and use there any weapons not prohibited by international laws that will help liberate our territories," Secretary of the National Security and Defense Council Oleksiy Danilov said in a tweet Friday. Speaking on Ukrainian national television Friday, Danilov hinted that some of the explosions in Crimea we have written about previously could be the result of "new types" of weapons. "Therefore, if there is a test of some weapon, it takes place on our territory," he said, according to the Qirim news agency. "It is possible that the test of new types of this weapon could take place in Crimea. It is not ruled out." 
Danilov did not elaborate, but one Ukrainian defense official we spoke with said Kyiv has three current options for striking Crimea, which Kyiv wants to liberate. The outer boundary of the peninsula, occupied by Russia since 2014, is about 50 miles from Ukrainian positions in Kherson Oblast.
The first are uncrewed aerial and surface vessels. While Ukraine has attempted several attacks using those weapons on Sevastopol, headquarters of Russia's Black Sea Fleet, the official, speaking on condition of anonymity to discuss sensitive issues, said that is becoming less of a viable option. Aerial drones do not have enough explosives to cause serious damage and Russia has found ways of countering the uncrewed surface vessels, the official said.
Another attack vector is Ukrainian-produced rockets and donated standoff weapons like the Guided Multiple Launch Rocket Systems (GMLRS) munitions provided by the U.S. and fired by the M142 High Mobility Artillery Rocket Systems, or HIMARS and the M270 Multiple Launch Rocket System (MLRS) provided to Ukraine by the U.S. and allies. Those munitions have a range of up to about 80km (about 50 miles). That's just about enough range to hit the northernmost edge of Crimea.
The US has also provided Ukraine with Ground Launched Small Diameter Bombs (GLSDB). The GLSDB has a range of around 94 miles, or 150 kilometers. That's just about enough distance to hit the Russian airfield and rail lines at Dzhankoy that have come under attack before.
Ukraine has also developed a rocket called the Vilkha-M, a modified 7.6 meter (25-foot) long Soviet BM-30 Smerch multiple launch rocket system (MLRS) artillery rocket. The Vilkha-M has a range of 110 kilometers (68 miles) and a 300-millimeter, 485-pound warhead that can hit targets with great accuracy. You can read more about that in our coverage here.
The third method Ukraine has of striking targets in Crimea at the moment is through sabotage, the official said. "The sabotage groups are the most reliable and probably [the] source of most of the explosions in Crimea," the official said. "There should be a lot of potential insurgency rebel groups, fueled by Ukrainian intelligence services that provide the necessary means to do sabotage." The Kerch Bridge, Vladimir Putin's prized $4 billion span linking Crimea to Russia, was attacked in October. And Ukraine has carried out sabotage attacks inside Russian territory and partisan groups have also struck inside Russia as well as Russian-occupied territory.
The official added that Ukraine is also working on a way to convert its domestically developed Neptune anti-ship missiles – used to sink the Russian Navy's Project 1164 Slava class cruiser Moskva a year ago yesterday. "Ukraine is working to modify Neptune missile to strike land targets," said the official, adding that they are only designed at the moment to hit large metal objects on the sea. "A new guiding/homing system is required, but Ukrainians are working on that." The official said the key missing component at the moment are microchips that Ukraine is hoping to procure from the U.S. and allies. "Once we get that, the Neptunes can hit targets 360 km (about 225 miles) away," said the official. "We are pretty close."
https://www.thedrive.com/the-war-zone/ukraine-situation-report-official-hints-at-new-weapons-to-be-unleashed-on-crimea
Comment: This article from "The Drive" along with the internal links gives a good overview of the means available for Ukraine to strike Russian forces and infrastructure in Crimea. However, there is no mention of the Grom-2 SRBM with a range of 500km and a 300km range for the export version. Before the war Ukraine was developing/testing the Grom-2 and the Vilka-M MRLS with the Saudis of all people. I think Kyiv is keeping the Grom-2 close to the vest until it can make the most impact.
I truly believe that Kyiv considers Crimea to be the center of gravity in the drive to rid all of Ukraine of the Russian invaders. That doesn't mean that the coming counteroffensive will reach Crimea or even aim toward it. But I think Russia also senses this Ukrainian focus. Russia also desires to retain Crimea over all other occupied Ukrainian territory. Their multiple layered defenses are designed to protect Crimea from the northern approach and deep into Crimea itself. They are also digging trench systems along the beaches, but I think that's more to bolster the morale of the Russian settlers now in Crimea. They have proven to be a skittish lot.
There's a very good chance that the upcoming counteroffensive will strike towards Melitopol or Mariupol or some point in between. If successful, it will cut the overland route from Russia to her forces in Kherson and Zaporizhzhia oblasts and leave the Kerch bridge as the only route to Crimea and the troops in those oblasts. At that point long range strikes at the transportation hub of Dzhankoi and the Kerch rail bridge would cut supplies to all those Russian forces. The million Russian settlers remaining in Crimea would be flooding the roads and the road bridge at Kerch. Crimea would eventually become militarily untenable for the Kremlin. Politically, a withdrawal from Crimea may be equally untenable for the Kremlin and especially for Putin. What could happen at that point is a puzzlement. Could all this play out this year? I don't know, but I could easily imagine Kyiv continuing this strategy into 2024. They either keep fighting or cease to exist as an independent Ukraine.
TTG