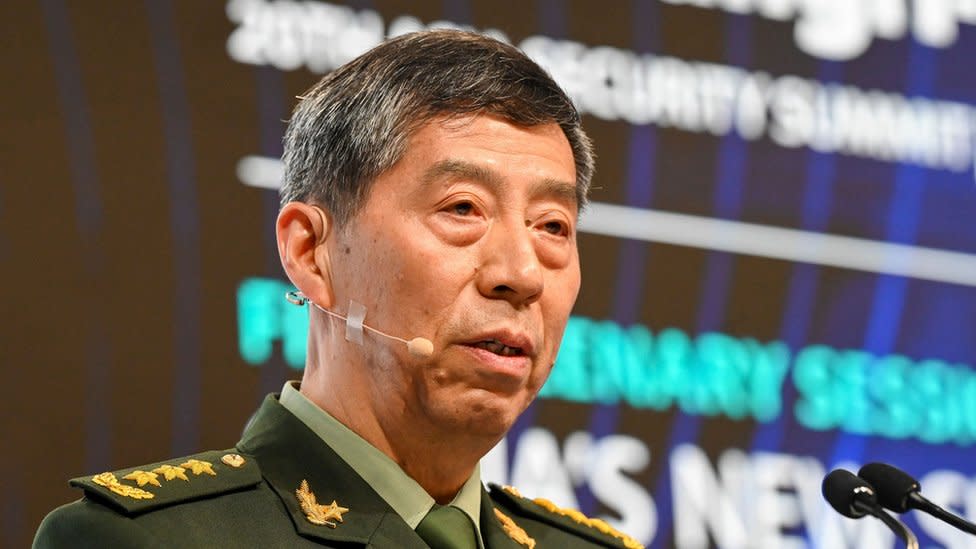 China's defence minister has said war with the US would be an "unbearable disaster" for the world in his first major speech since taking on the role. At a security summit, General Li Shangfu said "some countries" were intensifying an arms race in Asia. But he said the world was big enough for both China and the US, and the two superpowers should seek common ground.
Earlier the US alleged "unsafe" manoeuvres by a Chinese destroyer near a US warship in the Taiwan strait. On Saturday the US navy said a Chinese destroyer sailed "in an unsafe manner" near an American warship as it transited the Taiwan Strait with Canadian vessels. China criticised both countries for "deliberately provoking risk". The US and Canada said they were sailing where international law allows.
Gen Li, who became defence minister in March, accused the US of a "Cold War mentality" and said this was "greatly increasing security risks". In his speech he said China would not allow naval patrols by the US and its allies to be "a pretext to exercise hegemony of navigation". Asked about the incident in the Taiwan Strait, he said only that countries from outside the region were raising tensions. He was speaking at the Shangri-La Dialogue in Singapore, the Asia-Pacific region's only annual security meeting. Beijing has rejected a US request for direct military talks in protest at sanctions placed on Gen Li by the US in 2018 over weapons purchases from Russia.
At the Singapore summit, US Defence Secretary Lloyd Austin rebuked China for refusing to hold military discussions. Gen Austin and Gen Li shook hands and briefly spoke at the event's opening dinner on Friday, but there was no substantive exchange, reports say. One of China's delegates told AFP that the removal of US sanctions on Gen Li was a precondition for talks.
https://www.bbc.com/news/world-asia-china-65803311
Comment: Sounds like Li Shangfu is content with a state of intense competition rather than stumbling into a state of open warfare. I can live with that although the possibility of stumbling while intensely competing is still a danger. I would feel better if both sides talked with each other, but perhaps China's giving us the silent treatment is part of their idea of competition.
The Russian invasion of Ukraine, the shockingly poor performance of the Russian war machine and the equally shocking unity of the Western nations is probably giving China pause in her pursuit of reunification by military means. The level of destruction and depletion of military stockpiles is certainly giving pause to both China and the West. Any conflict over Taiwan would be an air, sea and space confrontation. The level of unknowns is high on both sides. I believe China recently said they don't feel they'd be ready for such a confrontation for five years. A lot can happen in five years. Tensions could rise. Tensions could fall. Our best course of action would be to seek some area of mutual cooperation in those five years. Perhaps an equivalent of the 1975 Apollo-Soyuz mission should be proposed.
TTG