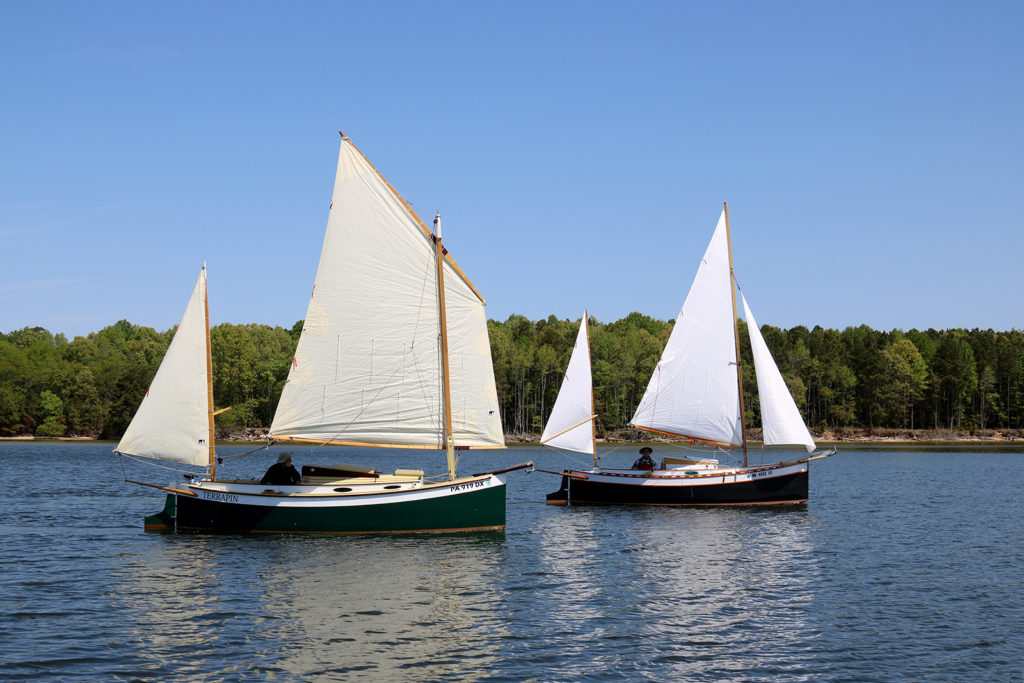 The Shallow Water Sailors are an informal collection of small boat nuts who for over 40 years have been gathering on the Chesapeake to cruise. I've had the privilege of joining their spring or fall retreats from time to time. A Shallow Water Sailors cruise is notable for its near-complete absence of fixed itinerary or programming. A locale and launch ramp are announced, always a pretty place with the right mix of open water and protected coves. The Wye, Chester, and Sassafras Rivers, for example. Skippers launch whenever they happen to arrive, and a fleet of small boats fan out. Some open, some decked-in, some modern, some neo-traditional. Some skippers sail in groups, some aren't seen for three days. Rafting up for dinner is optional. Everything is optional. The typical Shallow Water Sailor's cruise, in abandoning the regimented schedule of a regatta or formal cruising rally, embraces an experience reminiscent of a child's carefree summer day.
This year's destination was the St. Mary's River, a quiet, tree-lined tributary of the Potomac River, an hour southeast of Washington, DC. I heaved a couple of tote bags of food and warm clothing into PocketShip and trundled down from Annapolis to join the fun. I was also carrying a couple of nice cameras for reasons that were entirely mercenary: the first two examples of my Autumn Leaves design to hit the water had joined the cruise. Both were built closely to spec, and, even more interesting to me, one carried the lug-rigged option, and the other the jib-headed sailplan.
https://www.clcboats.com/life-of-boats-blog/Autumn_Leaves_Update.html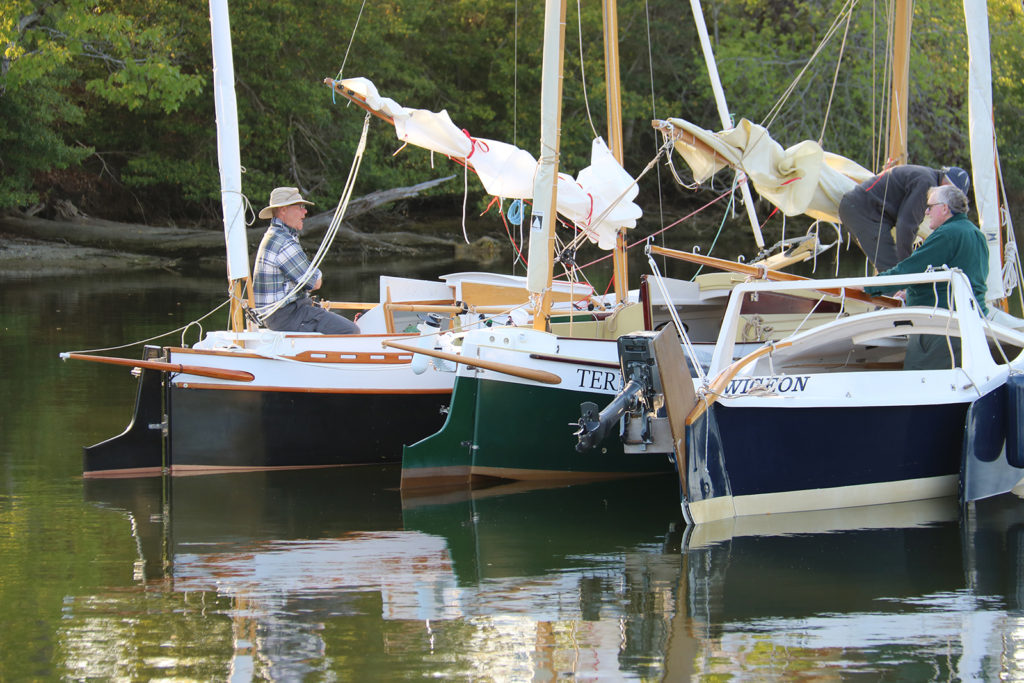 Comment: This article is written by John Harris of Chesapeake Light Craft, a designer and builder of a large fleet of CNC plywood boat kits. He's come up with some fine and interesting designs almost always guided by his belief that sailboats should not have motors. He has truly turned "messing about in boats" into a vocation and way of life.
John's "Autumn Leaves" design has intrigued me for years. It's a canoe yawl under 19 feet in length. That could fit in my garage so the HOA wouldn't have anything to piss and moan about. The design looks more like a Phil Bolger design. He was famous for his practical, easily built designs often with hard chines perfect for a non-yachtsman like myself. I like the looks of this design. It has a traditional look, especially with the lug rig, with some nifty features in its cabin layout. I could see myself waiting out a stormy day in that cozy cabin reading a book with a mug of tea… or a mug of something else. The oar setup is also somewhat unique. You row standing and facing forward. I've only seen that before in some Pete Culler rowing skiffs. Now there was another genius of a boat designer.
Right now, I'm content kayaking the Potomac, the James and a few other places, often with my younger son. But if I want to do the Everglades Challenge or the Blackbeard Challenge and build the "Autumn Leaves" or some other design, I best get to stepping. I'm not getting any younger.
TTG