Translated by Steven J. Willett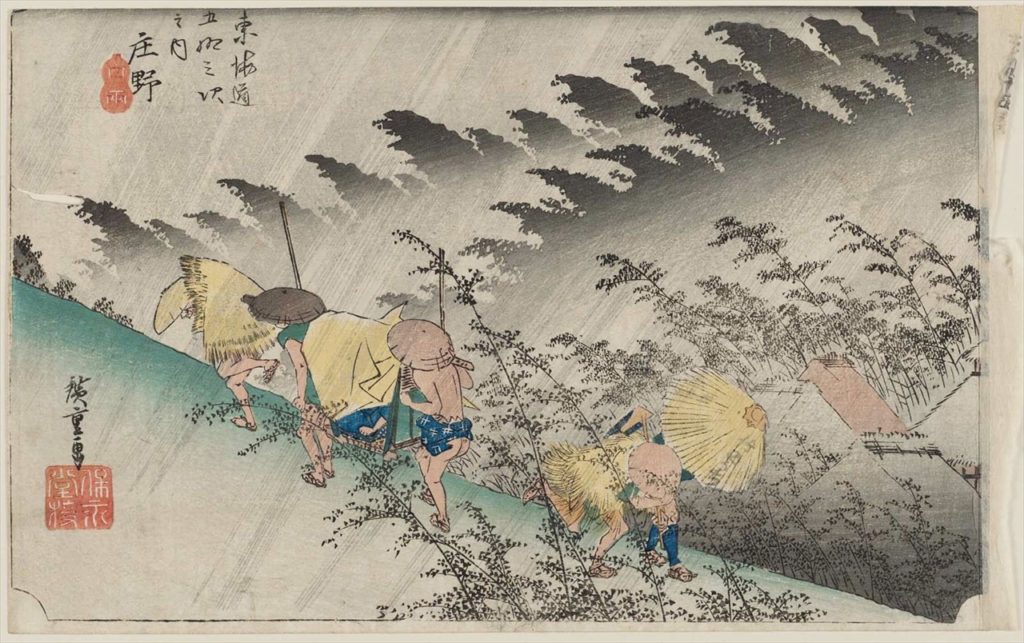 Utagawa Hiroshige ( 歌川広重) 797 ~ 12 October 1858), was a Japanese ukiyo-e artist, considered the last great master of that tradition. His best known collection of block prints in horizontal format is One Hundred Famous Views of Edo and in vertical format The Fifty-three Stations of the Tokaidō. This print depicts a sudden summer rainstorm at Shōno (庄野) in print No. 46 from The Fifty-three Stations of the Tokaidō.
Here in my hometown of Hamamatsu City our rainy season or tsuyu (梅雨) has started a bit early and will continue for three weeks. The typical rainy season runs variously between May and July in different regions of Japan. I've included this print because I'm now enjoying constant rain, fog, sweeping clouds and occasional lightning before it all ends and the oppressively humid summer heat closes down over us. By then, however, my wife and I will be at our home in Oregon's Willamette Valley.
Translation note: It's very difficult to translate haiku into any language, but I've used a somewhat simplified and occasionally non-syntactical English to convey haiku's endless ambience. The Japanese is given in linear form with a capital letter beginning each 'central' (if I can use that incorrect term) section of seven syllables. Slashes mark the three verbal, really speaking, stages of the haiku. At our old farmhouse in the mountains of Haruno, I've experienced much of the haiku in this collection. The area is still full of villages and dedicated to farming, principally green tea, plumbs, mikan (mandarin oranges) and wasabi among others. Haiku uses simple language like "water's sound" or "moon mountain," so beware of misleading simplicity.
旅人の 心にも似よ 椎の花
 Tabibito no/ Kokoro nimo niyo/ Shii no hana

 The mind of a traveler
  resembles
    beech flowers

 清滝の 水汲ませてや ところてん
 Kiyotaki no/ Mizu kumasete ya/ Tokoroten

 From clean waterfalls
  ladling up water!
   Tokoroten
Note: Tokoroten is a gelatinous edible slime for use in food preparation.

 馬ぼくぼく 我を絵に見る 夏野かな
 Uma bokuboku/ Ware wo e ni miru/ Natsuno kana

 The horse trumps
  I see myself in picture
   summer fields

 紫陽花や 藪を小庭の 別座敷
 Ajisai ya/ Yabu wo koniwa no/ Betsu-zashiki

  Hydrangea!
   In a thicket, a little garden's
     detached room
Note: A separate tatami room has a thicket with hydrangea serving for a rustic garden. 

 瓜作る 君があれなと 夕涼み
 Uri tsukuru/ Kimi ga arena to/ Yusuzumi

  Growing a gourd
   wish you were here
    cool evening
Note: I translated 君 (kimi), a second person intimate pronoun, with 'you' because our language has lost thee and thou. 

 啄木鳥も 庵はやぶらず 夏木立
 Kitsutsuki mo/ Iori ha yaburazu/ Natsu-kodachi

 Even the woodpecker
  couldn't crack the hut
   in summer grove
Note: The 庵 (iori) is a bamboo hut that serves as a hermitage for prayer or meditation. 

 己が火を 木々に蛍や 花の宿
 Onoga hi wo/ Kigi ni hotaru ya/ Hana no yado

 Their own flame
  in the forest fireflies!
    Flowers around the house.

 五月雨に 鳰の浮巣を 見にゆかん
 Samidare ni/ Nio no ukisu wo/ Mini yukan

 In early summer rain
  grebe's floating nest
    I oversee 

 雲の峰 いくつ崩れて 月の山
 Kumo no mine/ Ikutsu kuzurete/ Tsuki no yama

 Cloud summits
  always crumbling:
    moon mountain

 どんみりと 樗や雨の 花曇り
 Donmiri to/ Ouchi ya ame no/ Hana-gumori

 Thick and dull
  chinaberries in rain
   cloudy flowers
Note: 樗 (ouchi) is chinaberry or Japanese bead tree (Melia azedarach)

 花あやめ 一夜に枯れし 求馬哉
 Hana-ayame/ Ichiya ni kareshi/ Motome kana

 Iris flowers
  all withered in one night: 
   Motome
Note: Yoshioka Motome(吉岡求馬) was a kabuki actor in the Edo Period. Just before the day of his young death, Basho viewed the play.

 子供等よ 昼顔咲きぬ 瓜剥かん
 Kodomo-ra yo/ Hirugao sakinu/ Uri mukan

 Hey, you kids!
  bindweeds are blooming
   let's peel gourds
Note: 昼顔 (hirugao) is Japanese bindweed (Calystegia japonica). You can see pictures of bindweed flowers here: https://duckduckgo.com/?q=japanese+bindweed+gourd&t=newext&atb=v252-1&iax=images&ia=images

 暑き日を 海に入れたり 最上川
 Atsuki hi wo/ Umi ni iretari/ Mogamigawa

 The hot sun
  set into the sea
    by Mogami River

 五月雨を あつめてはやし 最上川
 Samidare wo/ Atsumete Hayashi/ Mogamigawa

 The early summer rains
  falling together, swift
    the Mogami River

 川風や 薄柿着たる 夕涼み
 Kawakaze ya/ Usukaki kitaru/ Yusuzumi

 River breeze!
  Wearing light brown
   the cool evening

 楽しさや 青田に涼む 水の音
 Tanoshisa ya/ Aota ni suzumu/ Mizu no oto

 How delightful!
  Cooling in the green paddy
   water's sound

 団扇もて あふがん人の うしろむき
 Uchiwa mote/ Aogan hito no/ Ushiro-muki

 Holding the fan
  someone whips
   from the back

 南無ほとけ  草の台も  涼しかれ
 Namu-hotoke/ Kusa no dai mo/ Suzusi kare

 The Buddha statue
  on an old stand also
   cools himself
Note: 南無 (namu) refers to 南無阿弥陀仏 (Namu Amida Butsu). ほとけ (hotoke) is an old word for an image or statue.