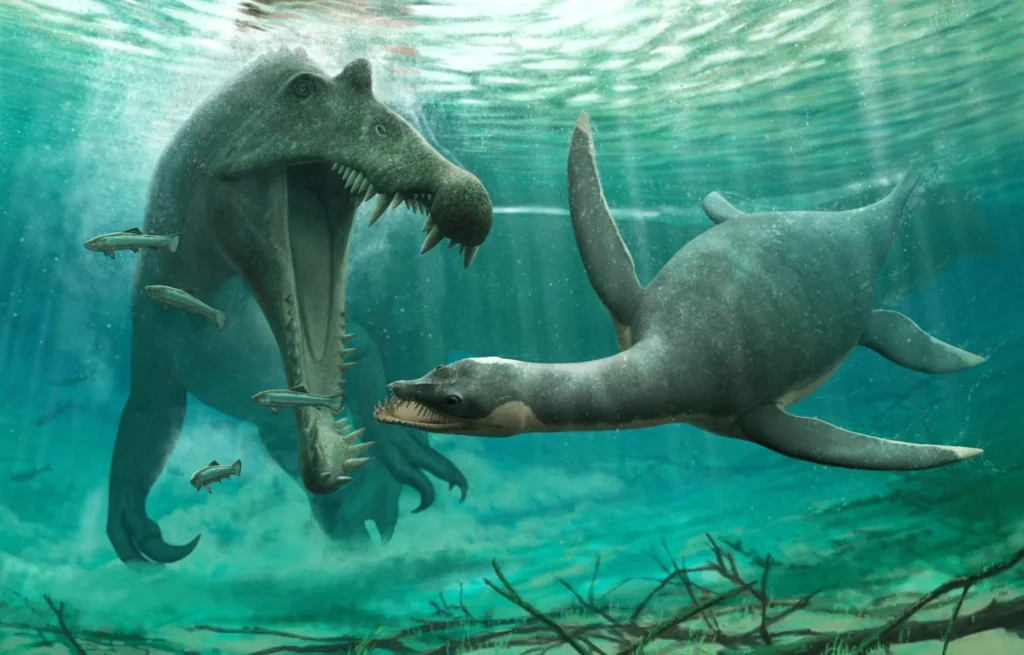 " … we paleontologists have always called them 'marine reptiles', they had to live in the sea? Lots of marine lineages invaded freshwater."
Freshwater dolphins evolved at least four times — in the Ganges River, the Yangtze River, and twice in the Amazon. A species of freshwater seal inhabits Lake Baikal, in Siberia, so it's possible plesiosaurs adapted to freshwater as well.
The plesiosaurs belong to the family Leptocleididae — a family of small plesiosaurs often found in brackish or freshwater elsewhere in England, Africa, and Australia. And other plesiosaurs, including the long-necked elasmosaurs, turn up in brackish or fresh waters in North America and China.
Plesiosaurs were a diverse and adaptable group and were around for more than 100 million years. Based on what they've found in Africa — and what other scientists have found elsewhere – the authors suggest they might have repeatedly invaded freshwater to different degrees.
"We don't really know, honestly. That's how paleontology works. People ask, how can paleontologists know anything for certain about the lives of animals that went extinct millions of years ago? The reality is, we can't always. All we can do is make educated guesses based on the information we have. We'll find more fossils. Maybe they'll confirm those guesses. Maybe not."
"It's been really interesting to see the direction this project has gone in," said lead author Georgina Bunker. The study initially began as an undergraduate project involving a single bone, but over time, more plesiosaur fossils started turning up, slowly providing a clearer picture of the animal.
The new discovery also expands the diversity of Morocco's Cretaceous. Said Dr. Samir Zouhri, "This is another sensational discovery that adds to the many discoveries we have made in the Kem Kem over the past fifteen years of work in this region of Morocco. Kem Kem was truly an incredible biodiversity hotspot in the Cretaceous."
"What amazes me," said coauthor Dave Martill, "is that the ancient Moroccan river contained so many carnivores all living alongside each other. This was no place to go for a swim."
But what does this all mean for the Loch Ness Monster? On one level, it's plausible. Plesiosaurs weren't confined to the seas, they did inhabit freshwater. But the fossil record also suggests that after almost a hundred and fifty million years, the last plesiosaurs finally died out at the same time as the dinosaurs, 66 million years ago.."
New Plesiosaur Fossil Discovery – What It Means for the Loch Ness Monster (scitechdaily.com)