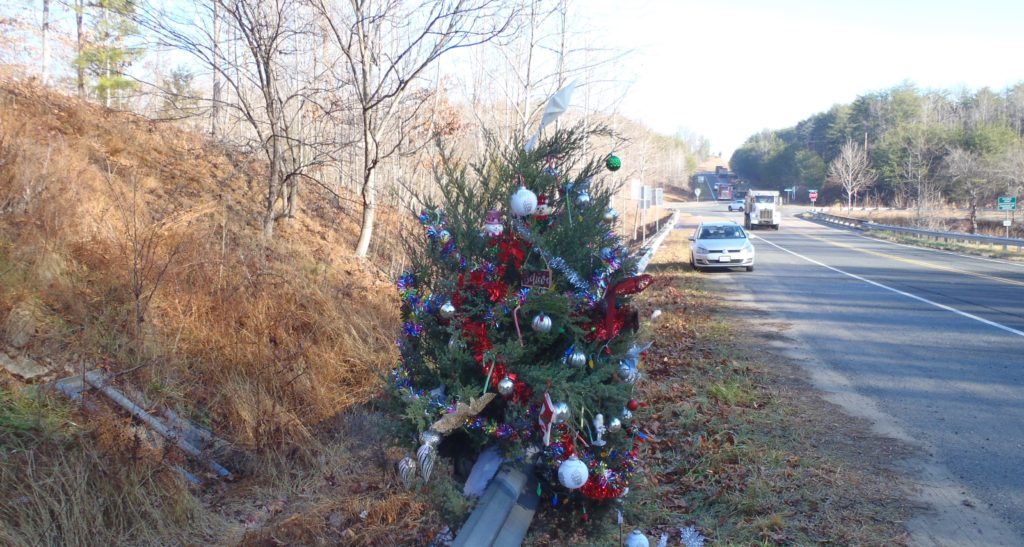 I can't remember when I first spied a decorated cedar tree along a Stafford road. It's been at least ten years that I've seen this tree, or maybe a similar nearby tree. I don't know who decorates the trees. Maybe it's the Stafford county road crews. Maybe it's some festive group from the nearby Stafford Regional Airport or even from the Fedex distribution warehouse. It could just be some longtime Stafford residents intent on spreading some Christmas joy. Whoever does this year after year has my gratitude… gratitude for this annual expression of Christmas joy and gratitude for the annual display of graciousness, giving and community. The anonymity of the gesture only magnifies my gratitude.
Whoever does this had extra ornaments after decorating the main tree. There are two more cedars on the other side of I-95 and Route 1 with smile producing decorations. Triple the joy.
Merry Christmas to everyone in this committee of correspondence. May you all find something to bring a smile to your face and joy to your hearts. And may you all be blessed to find such joy in the small things.
TTG