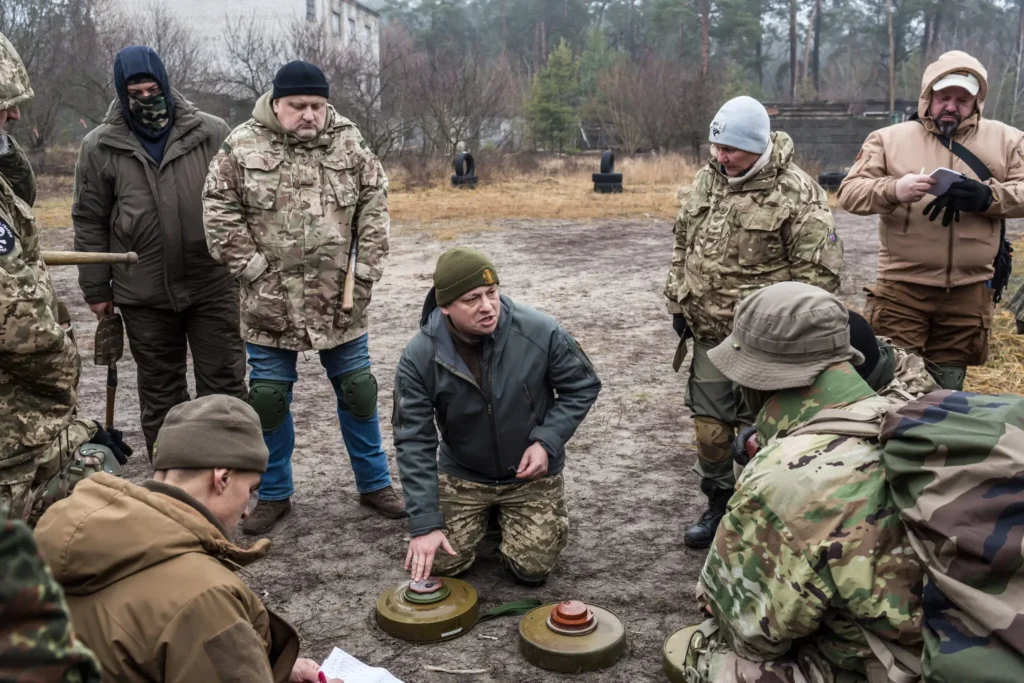 The guerrilla movement ATESH (Ukrainians and Crimean Tatars Movement) claimed responsibility for setting fire to a barracks in Crimea, where mobilized Russians were probably stationed, ATESH announced via Telegram messenger on 10 December. "The base of the conscripts of the army of the Russian Federation in the village of Sovetske in Ukrainian Crimea is on fire," ATESH wrote. "Our agents worked pitch perfect. We worked on this 'project' for a long time and, of course, everything worked out for us. We will continue to destroy the Russian army from the inside." The partisans also added that there were victims as a result of the fire, and promised to publish a list at a later date.
On Saturday, December 10, around 6:00 am, a fire broke out in the barracks where Russian conscripts were stationed in the village of Sovetske in occupied Crimea. As mentioned, the barracks could house from several hundred to several thousand people.
https://english.nv.ua/nation/ukrainian-guerrilla-group-in-crimea-take-responsibility-for-russia-barracks-fire-ukraine-war-50290176.html
The guerilla movement ATESH (movement of Ukrainians and Crimean Tatars) claimed on Telegram on 12 November that its activists had killed 30 Russian servicemen who were being treated in hospitals in Simferopol, in Ukraine's Russian-occupied Crimea. "ATESH agents successfully eliminated 30 servicemen of the Russian army at military hospitals of Simferopol," the guerilla movement said in its message "(These were) 30 (enemies), whom we helped reach the judgment of God." The partisans said their claims can be verified by checking the wards and morgues.
https://english.nv.ua/nation/partisans-in-crimea-claim-they-killed-30-invaders-in-hospitals-50283714.html
Ukrainian partisans in Russian-occupied Mariupol in Donetsk Oblast have posted a mocking message and a video of a burning building said to have been used as quarters for officers from Russia's invasion force in the city. "It's been a while since we played with the matches… Burns great! (This is) the house of invading officers. Or what's left of it. Were you relaxing? Goodbye uniforms, personal effects, your loot and your peace of mind. Russians – we're here!" Mariupol Resistance, a group of partisans, posted the message and video on the Telegram messenger on 7 October.
https://english.nv.ua/nation/in-mariupol-partisans-set-fire-to-house-where-russian-occupiers-were-quartered-50275334.html
A Ukrainian partisan, alias Svarog, operating in occupied Melitopol, revealed some details of the operation of the Ukrainian underground resistance, in an interview with the New York Times on Aug. 17. "The goal is to show the occupiers that they are not at their home, that they should not settle in, and that they should not sleep comfortably, " Svarog said.
The Ukrainian military began training partisans a few months before the invasion, when Russia concentrated its troops near Ukrainian borders. According to the partisan, after the full-scale Russian invasion of Ukraine, he was sent to a secret cache in a warehouse near Melitopol. There he found explosives, detonators, Kalashnikov assault rifles, a grenade launcher and two silenced pistols.
Partisan attacks have been going on for several months in Melitopol. According to Svarog, this spring, he and several members of an underground cell in Melitopol entered the city at night to plant a car bomb in a parking lot controlled by Russian police. First they cut an electrical wire to turn off the street lights, then in the dark they planted a bomb in the wheel arch, and wrapped the bomb with tape, with the sticky side out. The tape was glued to both the inside of the wheel and the detonator so that the bomb would detonate as the wheel starts rotating. "Nobody there is keeping public order," said Svarog. "As a result of the bombing, one policeman was killed, a second was injured."
Last week, another member of the resistance mined the car of collaborator Oleh Shostak. Svarog noted that his team planted a bomb under the driver's seat. It was set up to explode on the engine's start. Shostak survived the assassination attempt, but was seriously wounded. According to the partisan, whether the collaborators survive or die is less important than the signal sent with each attack: you will never be safe.
Svarog, along with another partisan, callsign Viking, said that they didn't consider doctors, firefighters, and ordinary housing and communal services workers to be traitors. But the teachers who cooperate with the invaders, according to the partisans, are collaborators.
"The Russians want to teach according to their school program, and not according to the truth," Viking said. "A child is vulnerable to propaganda and if brought up into this program, he will become an idiot just like the Russians." The partisans will not attack teachers, he said, but will humiliate them with grim warning leaflets, which they often place on power pylons.
https://english.nv.ua/nation/melitopol-partisan-reveals-details-of-resistance-to-new-york-times-ukraine-war-50264042.html
Comment: It's not just HIMARS and repurposed Soviet drones that continue to haunt the Russians dreams. Ukrainian and Crimean Tatar partisans are in Russian nightmares on a regular basis. Even the HIMARS strike on the Melitopol Russian barracks was the result of partisan target acquisition. These partisans and the Ukrainian SF teams operating in Russian occupied Ukraine are an important part of Ukraines strategy, far more important than in many previous wars. It's part of the "total defense" strategy now being implemented in many Eastern European countries.
TTG