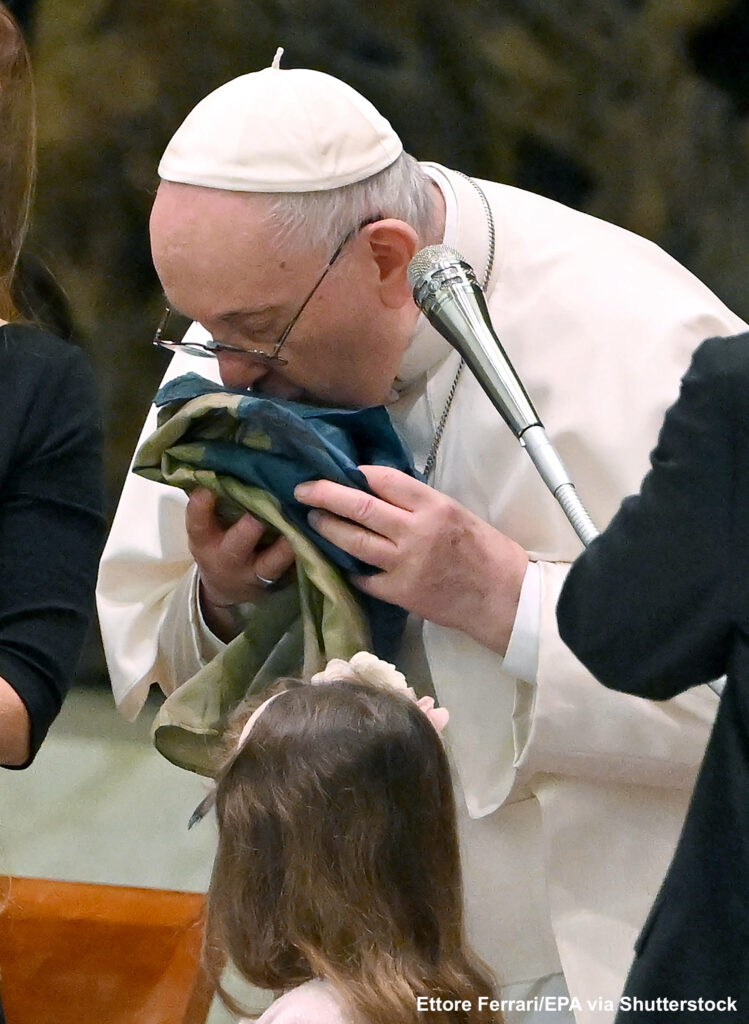 ON BOARD THE PAPAL FLIGHT FROM KAZAKHSTAN — Pope Francis on Sept. 15 backed Ukraine's right to defend itself from Russia's violent, seven-month-long invasion, and, for the first time, appeared to lend his support to other countries that are supplying Ukrainians with arms and war material. "To defend oneself is not only licit, it is also an expression of love toward one's homeland," Francis told reporters during the seven-and-a-half hour flight back to Rome following a three-day trip to Kazakhstan.
Francis characterized the decision of other nations to supply arms to Ukraine as a "political" calculation that "may be morally acceptable" under the right conditions. But he cautioned: "It can be immoral if done with the intentions of making more war."
While the pope backed Ukraine's right to self-defense, he also reiterated his earlier calls for dialogue between Russian and Ukrainian leaders. "I don't exclude dialogue with any power that is at war, even if it is with the aggressor," he said. "It may smell, but one has to do it."
While both the Vatican's secretary of state and its foreign minister have previously offered a cautious justification for supplying weapons to Ukraine, the pope's remarks marked the first time he had directly addressed the question.
Francis spent three days in Kazakhstan, a Central Asian nation and former member of the Soviet Union that shares a 4,700-mile-long border with the Russia Federation, as a participant in the 7th Congress of Leaders of World and Traditional Religions. The Congress gathered global interfaith leaders to promote coexistence and anti-extremism among world faiths.
During his first day in the country, Sept. 13, Francis blasted the war against Ukraine as "senseless and tragic." On the following day, the pope criticized religious leaders who seek to justify war and violence, which was widely viewed as an implicit criticism of Russian Orthodox Patriarch Kirill, who has used religious language to justify his support for the invasion.
https://www.ncronline.org/news/vatican/pope-francis-backs-ukraines-defense-says-supplying-arms-may-be-morally-acceptable
Comment: So it seems Putin and his war is enough to piss off the Pope. Back in the early 80s I remember the rumors of Jan Pavel II entertaining the idea of leaving the Holy See behind and joining Solidarność when it went underground to join the battle to free his beloved Poland. Would have been a hell of a statement. As it was, I also remember when the Pope visited Poland and General Jaruzelski was shaking like a leaf when he greeted him at the airport.
TTG