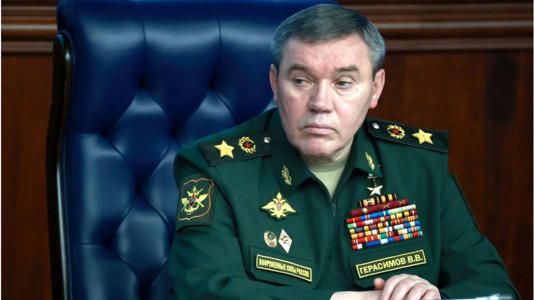 "Russian President Vladimir Putin replaced the commander of his country's forces in Ukraine.
Putin named Gen. Valery Gerasimov to take over Russia's troops, NBC News reported. Gerasimov replaces Sergey Surovikin, the Russian defense ministry announced Wednesday on Telegram.
Three months ago, Surovikin became the first person to be put in sole command of the campaign since Putin began his unprovoked attack on Ukraine on Feb. 24.
Surovikin, nicknamed "Armageddon," had a reputation for "total ruthlessness," and his willingness "to vigorously execute any orders trounced any potential questions" about his checkered qualifications.
Surovikin had replaced two Russian senior military commanders fired after Ukraine's largely successful counteroffensive in the southern Kherson region and portions of the area surrounding Kharkiv in the northeast.
The news on Gerasimov being named came on a day in which Ukraine's military denied that Russian forces had taken control of the eastern town of Soledar.
Serhiy Cherevatyi, spokesperson for the eastern military command, told Ukrainian television that Ukrainian forces had not allowed Russian forces to break through front lines."
Comment: This is like succession to command on a Klingon War Bird. I wonder how long this one will last. pl
Putin Replaces Russia's Top Commander in Ukraine | Newsmax.com