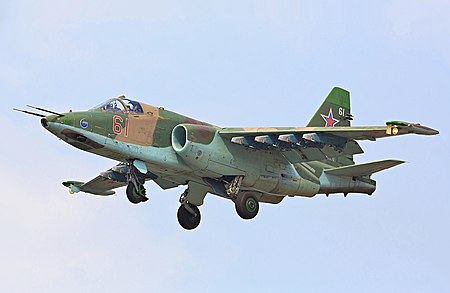 "Vladimir Putin's air force is now flying just "tens of missions" a day after losing more than 60 aircraft and coming under continued threat from Ukraine's air defences, British defence chiefs said on Monday.
They believe that Russian air attacks will remain limited as winter deepens.
In its latest intelligence update, the Minstry of Defence in London said: "In recent months, the number of sorties conducted by Russian tactical combat aircraft over Ukraine has reduced significantly. Russian aircraft now probably conducts tens of missions per day, compared to a high of up to 300 per day in March 2022.
"Russia has now lost over 60 fixed-wing aircraft in the conflict, likely including an additional Su-24M FENCER fighter-bomber and a Su-25 FROGFOOT ground attack aircraft last week."
The briefing continued: "The decrease in sorties is likely a result of continued high threat from Ukrainian air defences, limitations on the flying hours available to Russian aircraft, and worsening weather."
Comment: "All weather" is a relative thing. Pilots know that their chances of survival decrease as the weather gets worse and worse. This is one of the many reasons why artillery is such a friend to the PBI (poor bloody infantry). Artillery shells are not deterred by weather, dark of night, etc.
Ukrainian air defenses? Sure, but I would put my money on the weather being the biggest factor in this. pl
Putin's combat air force flying just 'tens of missions' a day after more than 60 aircraft downed, says UK | Evening Standard