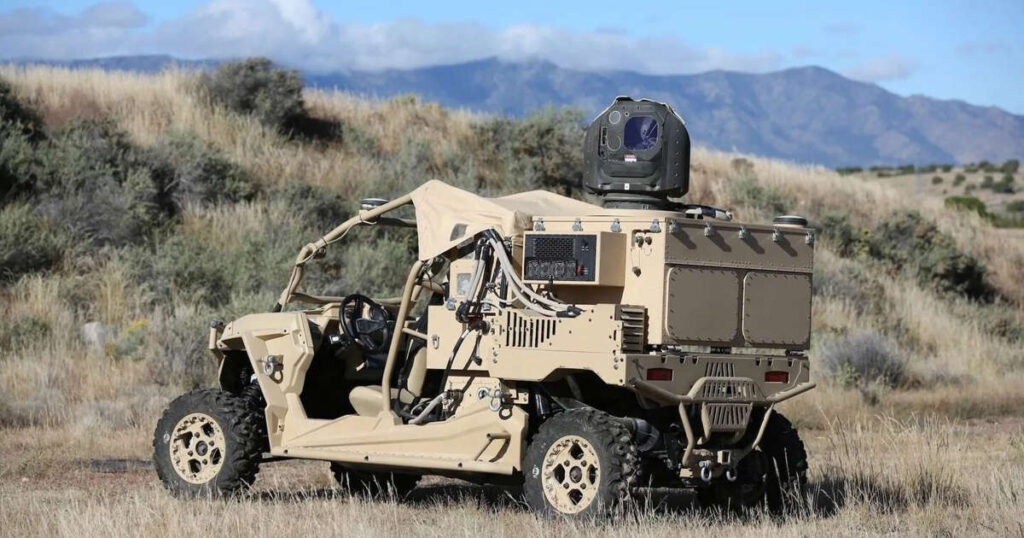 "Frying these drones would be a pair of High Energy Laser Weapon Systems (HELWS), made by Raytheon. One was mounted on the back of a Polaris MRZR, a military grade dune buggy. The MRZR still had the two front seats, and in the back sat the power supply and targeting system for the HELWS. Next to the buggy-mounted laser weapon was an identical system, only this one was on the bed of a large truck. In the field, HELWS is designed to be battery powered, but for today each was running off a portable generator, burning gasoline.
A relatively small amount of fuel would power the two lasers in use that day for the whole of their operations. By the end of the day, 10 DJI Phantom 4s would lie, collected, in various states of destruction. At roughly $3,000 apiece, depending on the model, that's $30,000 in drones destroyed for roughly what it takes to fill up a small car.
This cost disparity, between cheap drones and even cheaper laser takedowns, is an explicit reason for developing laser weapons. Current means of destroying drones in the field can risk overkill, and come with various drawbacks.
"It has to be a cost-effective solution for soldiers to be able to use it," said Annabel Flores, chief operating officer of Global Spectrum Dominance at Raytheon Intelligence and Space. "It makes no sense to shoot something that's hundreds of thousands of dollars or a million-dollar missile into something that's a thousand dollars.""
Comment: This looks like a good deal. pl
What it's like to fire Raytheon's powerful anti-drone laser (msn.com)