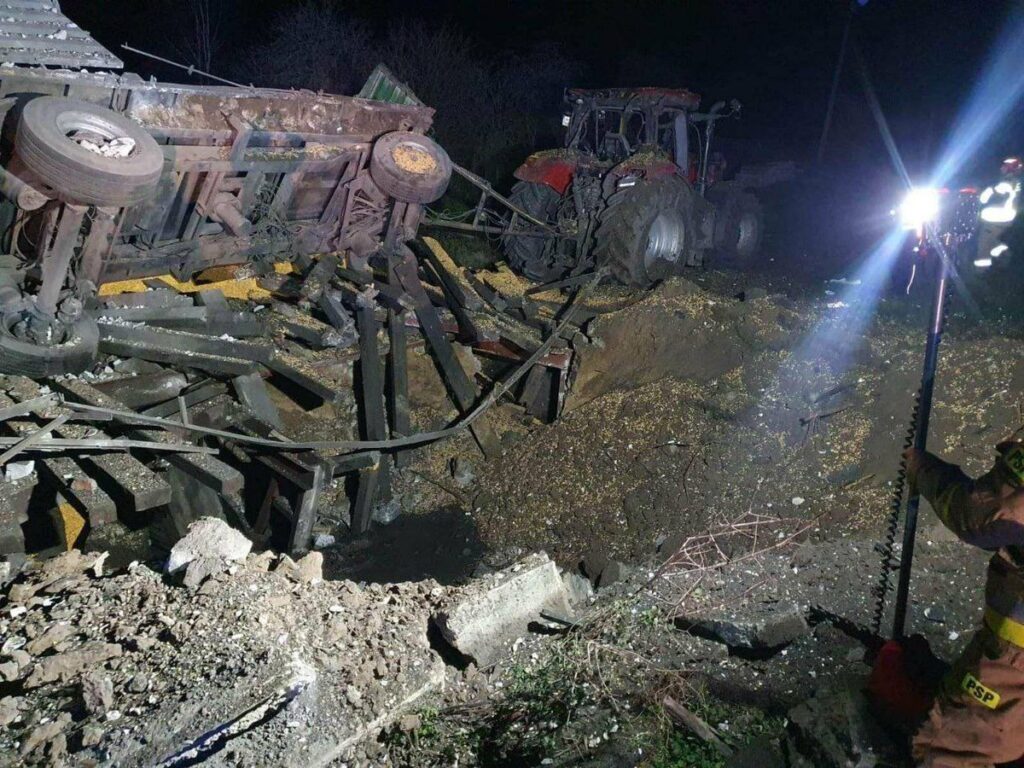 Russia launched around 100 missiles and drones against Ukrainian civilian infrastructure today—the largest since the war began—with the clear aim to spread terror, and to also knock out Ukraine's energy grid. (Ukraine claims that 73 of the missiles were shot down, which may or may not be true.) If anyone wonders why Ukraine is winning the war, it's because Ukraine knocks out Russia's logistical hubs and depots, while Russia would rather kill civilians and inconvenience them this winter in the cold. Meanwhile, Ukrainian trains run virtually unimpeded, supplying Ukraine's war effort on the fronts.
This war has laid bare Russia's incompetence from top to bottom, and that extends to the effectiveness of their weaponry. The fact that two Russian cruise missiles missed their Ukrainian target and landed in Polish territory isn't surprising; what is surprising is that it hadn't happened until now. That two people were killed in the attack raises the stakes.
The two missiles hit 100 kilometers from their presumed intended target of Lviv, so some people are skeptical it was a mistake, but I'd be shocked if Russia was interested in escalating with NATO. They're already losing the war. The last thing they need is either Poland or NATO engaging. If the target was military, perhaps a supply depot or rail head feeding Western weapons and ammunition to Ukraine, there would be logic to such an attack. They hit a farm. This doesn't make any sense beyond "oh shit, we missed … by a lot."
So the big question is: Will Poland invoke Article 5 of the North Atlantic Treaty Organization? And the answer to that is: not likely. Article 4 allows for consultations between the allies, and that is almost assuredly going to happen. They'll demand an explanation and apology from Russia. The alliance will talk about strengthening its Polish front. Maybe they'll rush additional air defense units to the border area. But it seems inconceivable that either side is eager to use this mistake to escalate further. At most, NATO might send an "if it happens one more time …" message that will force Russia to avoid further hitting western Ukraine, lest it screw it again. Russia already backed down to Turkish threats on the Black Sea grain deal, so they're not currently operating from a position of strength.
There is no chance the alliance hasn't gamed out this possibility already. Now we wait and see what Poland's and the alliance's reposes will be.
https://m.dailykos.com/stories/2022/11/15/2136339/-Ukraine-update-Russian-missiles-inadvertently-strike-Poland
Comment: Several of you already mentioned this news in comments. There's still a lot of unanswered questions. I'm sure there'll be more answers released publicly in the next few hours. Already Poland, all three Baltics and even Hungary are holding high level defense meetings and talking about defending every inch of NATO territory.
My guess is that Russia inadvertently screwed up. They've already repeatedly demonstrated their incompetence. Still, there will be a NATO reaction or at least a Polish/front line state reaction. Perhaps there will be a regional air defense umbrella extended over much of Ukraine, Belarus and the Black Sea. I doubt we'll see a full fledged no fly zone, but I don't think that's needed to ensure an eventual Ukrainian victory.
TTG