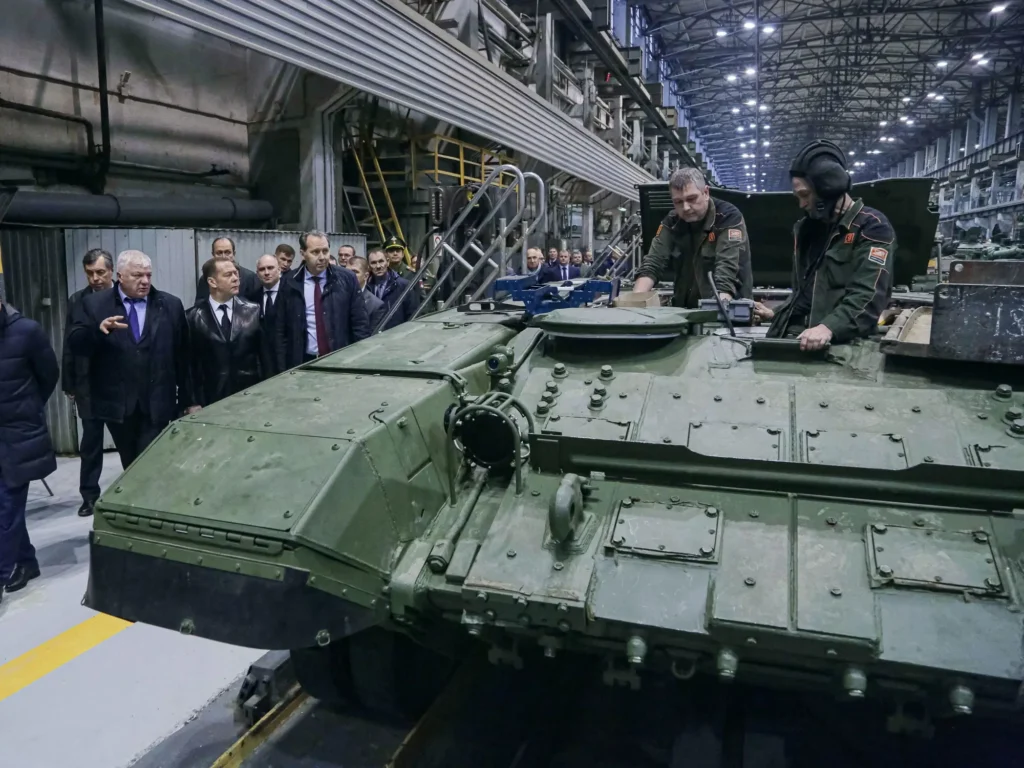 In the 1940s the Soviet Union was able to produce 1,000 tanks a month. Today, Russia can produce just 20, with a single factory struggling to keep pace with outsized demand caused by the war in Ukraine, according to The Economist. The British publication reported that Russia now has just one tank factory, UralVagonZavod, a massive 1930s-built industrial complex in eastern Russia.
It may be one of the largest tank manufacturers in the world, with Fortune estimating that it has 30,000 employees, but each month it is only able to produce tanks in the double digits, The Economist said, citing liberal Russian media outlet Novaya Gazeta. That's nowhere near demand: one Western official told the publication that demand is outstripping supply by a factor of 10. Russia is losing around 150 tanks a month in Ukraine, according to an analysis by open source intelligence platform Oryx. It has lost 1,779 tanks since February 2022, Oryx reported.
Tank production is harder than it was in the 1940s, when the Soviet Union was churning out vehicles, largely because modern-day tanks are more complex to build and far more sophisticated, according to The Economist. But other factors are also involved. A shortage of parts, particularly semiconductors, has hampered Russian production, The Economist reported. And UralVagonZavod hasn't been properly modernized because of financial mismanagement and significant debts, it said. As a result, Russia is becoming increasingly reliant on restoring older tanks, which it has in the thousands in storage.
UralVagonZavod is refurbishing about eight old tanks a month, with three other repair plants in Russia rebuilding another 17 or so monthly, The Economist said. Two more plants are due to come online in the coming months, per the media outlet. Russia may soon be able to resurrect around 90 tanks each month, in addition to the 20 new ones being built, but even this would fail to match its estimated losses.
https://www.businessinsider.com/russia-demand-tanks-outstrips-production-by-factor-of-10-report-2023
Comment: This is the first specific information I've seen on current Russian defense production. It's no secret that all sides are realizing that established logistical norms for modern conventional are woefully inadequate. Everyone is scrambling for artillery shells, rockets and missiles not to mention replacement artillery tubes. We now see that Russian defense production is but a shadow of what it was in the 1940s and 1950s. This is what's led to Russian recent reliance on dismounted infantry assaults rather than the armored assaults that characterized Soviet and Russian doctrine for decades. 
Ukraine can't produce new tanks after their one tank production facility was hit early in the war. But they're doing a good job of refurbishing damaged and captured tanks as is the Czech Republic, Poland and others. This capture, repair and refurbishing has kept the Ukrainian tank force as strong as it was at the beginning of this war even without Leopards, Abrams and Challengers. Russia can't do that.
The rest of the West is not in great shape either. Lockheed was producing only 48 HIMARS at the beginning of 2022. They quickly ramped up production to 60 and will some be up to 96 per year. It will be years before everyone who wants them gets them. Poland alone wanted up to 500 of them. And then there's the rockets for the HIMARS. Lockheed now can produce 9,000 a year. I don't know if other countries produce or are allowed to produced rockets for the HIMARS. The South Koreans produce the K239 Chunmoo MLRS. Poland is buying them in addition to the HIMARS and intends to produce the rockets for the Chunmoo in Poland. This does point out an advantage for Ukraine and the West. Western countries can pool their defense production. That's the beauty of coalitions.
In short, Russia's massive stockpile of old tanks won't do them any good if they can't refurbish them in a timely manner and they can't produce new ones even close to the rate they're losing them. In my opinion, they are sucking bilge water.
TTG
https://www.reuters.com/business/aerospace-defense/lockheeds-himars-plant-gearing-up-meet-demand-after-ukraine-success-2023-02-28/