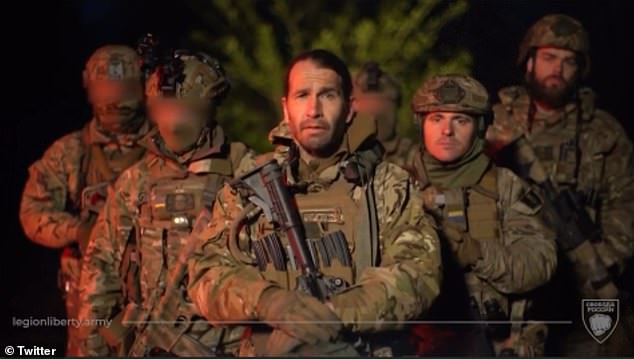 Ilya Ponomarev, the political leader of the Freedom of Russia Legion, told Tonight With Andrew Marr that his group is one of two regiments that have taken part in an operation that seized a village near the Ukrainian border during a cross border raid. The anti-Putin forces say they have overrun Kozinka and has units on the way to Grayvoron, a town in the Belgorod region. Footage of armoured vehicles purportedly moving around that area has been posted online, while Russian authorities declared a "counterterrorist regime". Russian and Ukrainian officials both said there was fighting at the border, though claims of taking territory have not been verified.
Mr Ponomarev, a former opposition deputy in Russia's parliament, exclusively told LBC: "This war will not end in Ukraine, this war can only end in Moscow… when Putin's regime is replaced. "Obviously it will not be done by Ukrainians or by Nato forces, British forces, whatever, it will be done by Russians." He said his group's fighters are made up of Russian army defectors who have been trained by Ukraine's GUR military intelligence agency. "But it's our job. It's not fair if Ukrainians would spill their blood for our freedom," he added. No Ukrainian troops were involved in the operation, he claimed. He said the other regiment was a right-wing militia but his group is considered centrist.
It follows escalating activity in Russia that looks directed against prominent war supporters and the regime. A war blogger was blown up in a St Petersburg café in April, while the daughter of a far-right thinker who was once dubbed "Putin's brain" was killed in a car bombing last year. Earlier this month, a drone exploded over the Kremlin. Mr Ponomarev said that was done by "people we know".
https://www.lbc.co.uk/news/russian-resistance-belgorod-ukraine/
Comment: Reports of this cross-border raid have been coming in most of the day. It appears that in addition to Ponomarev's Freedom of russia Legion, Denis Nikitin's Russian Volunteer Corps took part in the combined arms assault. I've seen a drone video of an armored column heading up the road towards Grayvoron, no more than ten miles beyond the border. There was some fighting there, but the resistance Russians seemed to have pulled back and dug in in a couple of towns just across the border. The Russians have engaged the rebels with reports of Grad fire being heard. I don't know if the rebels are still there or have returned to Ukraine.
The meaning of this action is well summarized by Artor Micek (@Artur_Micek), a Polish twitter commentator.
My commentary on what is happening in the Belgorod region. What we are witnessing is a small rain from a large cloud, heavily inflated by the Ukrainian side. That's the truth. This is not a Ukraninian offensive, although some local form of attack has taken place.

The aim of the operation, which in my opinion will end soon, is to force the Russians to disperse its own forces. Recently, the Russians left quite a small amount of troops on the border with Ukraine. Kyiv probably wants Moscow to send its own reserves to this area (as well as other). Thanks to this, real Ukrainian attacks can be more successful in other places.

This is another element of the last phase of preparations for the main offensive, i.e. forcing the Russians to move the reserves. Thanks to this, Ukrainian forces also have an easier task in attacking the logistics and command points of such formations. Oh, there will be more similar actions plus a lot of fake attacks.
In addition to how this contributes to the Ukrainian shaping of the battlefield, This action has "symbolic significance and the hope that is being spread among Russian elites and diaspora cannot be overestimated."  as explained by Ponomarev. Plus, this does confirm my thoughts that the drone attack on the Kremlin was the work of Russian resistance forces just like all those factory fires and train derailments across Russia.
TTG