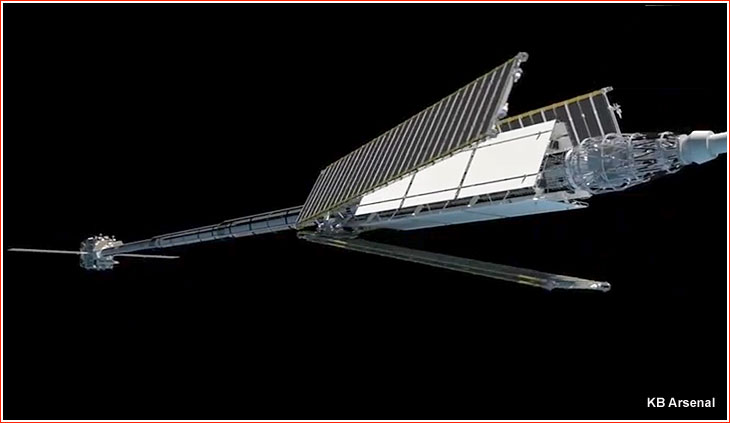 "Russia is planning to send a nuclear-powered spacecraft to the moon, then Venus, then Jupiter. Roscosmos, Russia's federal space agency, announced Saturday that its "space tug" — the term for a spacecraft that transports astronauts or equipment from one orbit to another — is scheduled to launch on an interplanetary mission in 2030. The spacecraft's energy module, named "Zeus," is designed to generate enough power to propel heavy cargo through deep space. It's essentially a mobile nuclear-power plant."
"Several countries have their eyes on similar technology as a way to shorten trips in space. Right now, spacecraft rely on solar power or gravity to accelerate. But that means it could take more than three years for astronauts to conduct a round-trip visit to Mars. NASA estimates that a nuclear-powered spacecraft could shave a year off that timeline."
"The mission plan calls for the spacecraft to approach the moon first, then head toward Venus, where it can use the planet's gravity to shift directions toward its final destination, Jupiter. That would help conserve propellant. The entire mission would last 50 months (a little over four years), according to Alexander Bloshenko, Roscosmos' executive director for long-term programs and science. During a presentation in Moscow on Saturday, Bloshenko said Roscosmos and the Russian Academy of Sciences are still working to calculate the flight's ballistics, or trajectory, as well as the amount of weight it can carry."
Comment: From the Business Insider article, I can't tell whether this nuclear powered rocket will launch from Earth or be assembled in orbit and then sent on its interplanetary journey. The Russianspaceweb article details how the craft will be constructed and deployed. Its nuclear engine will not be started until it is safely in Earth orbit. Roscosmos and KB Arsenal already have a lot of experience in nuclear spacecraft. NASA is also looking into nuclear powered spaceflight for manned missions to Mars and beyond.
I am reminded of the plans developed by the astrophysicist Freeman Dyson to build starships powered by nuclear explosions. This is all detailed in the wonderful book "The Starship and the Canoe" by Kenneth Browder. It's a biography of Freeman and his son, George Dyson, who dropped out of school to live in a tree house high atop a Douglas fir in British Columbia. George designed and built a massive kayak in the Aleutian bidarka style. An excellent read.
I read the book after my youngest brother visited a couple of years ago. He's the one who cleared his own land, harvested his own timber, milled his own lumber and built his own post and beam house at the foot of the White Mountains. He took a course in kayak construction, but chose not to buy the frame he built. He preferred to cut his own lumber for his kayak.
TTG
https://www.businessinsider.com/russia-nuclear-powered-spacecraft-moon-venus-jupiter-2021-5