""They can't keep it up forever," the official said. "They have expended a lot of smarter munitions. Their capabilities are getting dumber." 
The U.S. defense official assessed that Russia has not only deployed its missile forces, Air Force and its special operation forces known as "Spetsnaz," but it has removed troops from other areas near its borders and stationed across the globe.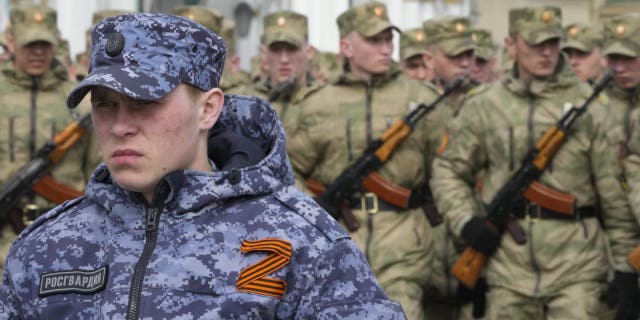 A soldier of Russian Rosguardia (National Guard) with an attached letter Z, which has become a symbol of the Russian military, stands guard. (AP Photo/Dmitri Lovetsky)
UK SPY CHIEF WARNS OF 'NO LIMITS' RUSSIA, CHINA PARTNERSHIP, BUT INSISTS WEST HAS 'ADVANTAGES'
The official added the Pentagon has assessed that Ukraine has taken out more than a hundred "high-value" targets in attacking Russian command posts, ammunition depots, air-defense sites, radar and communications nodes, and long-range artillery positions.
Additionally, more than just military targets, Moscow is grappling with a substantial number of causalities daily.
The senior defense official said that "thousands" of lieutenants and captains, "hundreds" of colonels, and "many" generals have been killed in the fighting since the war began.
"The chain of command is still struggling," the officials added. "They are still not effective at combined arms.""
Commet: There is clearly a division of opinion as to the situation facing the Russians in Ukraine. On the one hand you have the Russians, their IO assets, their recruited agents of influence, and those who just want to be contrary and on the other hand you have opinions of the US IC, the British IC, TTG and me. pl
Russia using 85% of fighting force in Ukraine: senior US defense official | Fox News