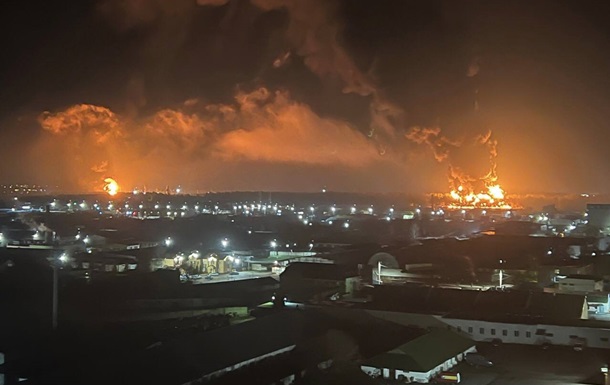 MULTIPLE MASSIVE explosions have occurred in the western Russian city of Bryansk, according to reports. Large fires have been reported to be raging throughout the area with some reports indicating it could be a possible Ukrainian attack on an oil pipeline transporting oil from Russia to Europe through Ukraine and Belarus. Journalist Alexander Bunin revealed two fuel tanks are engulfed in flames after "several explosions" took place, but no official information has been released thus far.

He told his Twitter followers: "On the outskirts of Bryansk, two fuel tanks are burning in a military unit on Moskovsky Prospekt and an oil refinery at Snezhetsky Val. "No official information yet.

"There were two explosions near the Selmash plant in Bryansk. Now the flame."

"Several explosions were heard in Bryansk."

Meanwhile independent Ukrainian media outlet Euromaidan Press announced the explosions and reported it may be part of the Druzhba pipeline which transfers oil from Russia to Europe.
https://www.express.co.uk/news/world/1600540/Druzhba-explosion-Russian-oil-depot-ukraine-news-russia-latest-ont
Comment: This article was entitled, "Druzhba Explosion." I think assuming this blast interrupted the Druzhba pipeline is wishful thinking by the author and the Euromaidan Press. But there was a series of explosions and two separate fires observed at a Bryansk oil storage facility and a military facility of the 29th brigade of the Russian Railway Troops where, coincidentally, a lot of ammo was stored. While Russian authorities admitted the explosions took place and the facilities are on fire, they gave no reason for the "mishap." No one else has claimed responsibility  either.
Russia has been plagued by such mishaps lately. Some was obvious enemy action such as the missile strike and Hind strike in Belgorod. Was this a drone strike? Russian sources showed wreckage of a downed Bayraktar TB-2 in Kursk Oblast this morning. Quite possibly, but that doesn't account for the many fires, damaged railway lines and even a collapsed dam. Some could be freak accidents or even covert action by Ukrainian or Western forces. But I think it's something far more sinister than that, sabotage by Russian citizens. If Russians are not pleased with the way the war is going or where Putin is leading them, they can't stage protest rallies or, God forbid, violent riots before an open press without risking severe consequences like years in a Siberian penal colony or worse. So they act out in other ways… surreptitious sabotage. Word of these acts will spread like old Soviet samizdat. It won't stop. Putin and his security state should be shitting themselves in rage and fear. They would have been better off with a few embarrassing peace rallies or a couple of looted and burned out department stores.
TTG