A Late Poem of Sappho Lamenting the Realities of Old Age
Translated by Steven J. Willett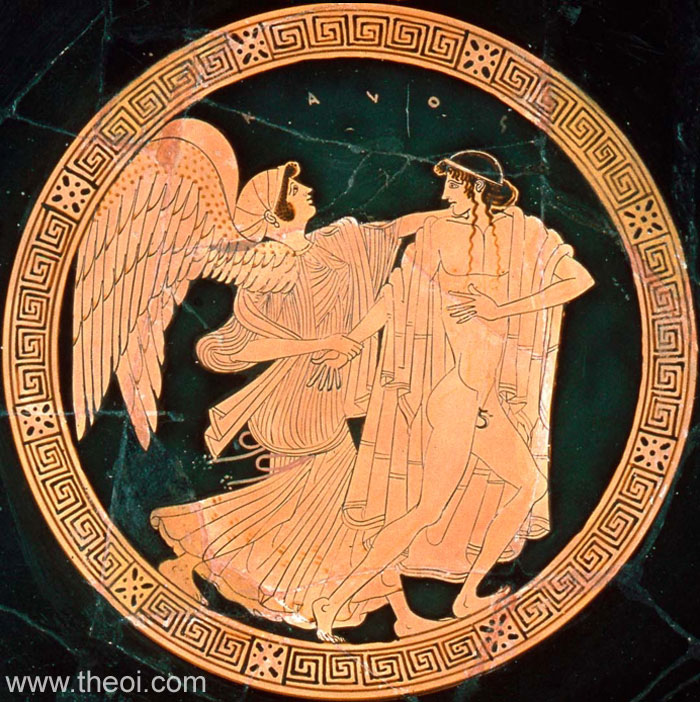 The red-figure vase c. 470~460BC shows Dawn pursuing Tithonus.
Note 1: This poem has a complex history, and I recommend reading the Wikipedia account of its discovery and editorial formation. Here is a general summary: "The Tithonus poem, also known as the old age poem or (with fragments of another poem by Sappho discovered at the same time) the New Sappho, is a poem by the archaic Greek poet Sappho. It is part of fragment 58 in Eva-Maria Voigt's edition of Sappho. The poem is from Book IV of the Alexandrian edition of Sappho's poetry. The poem was first published in 1922, after a fragment of papyrus on which it was partially preserved was discovered at Oxyrhynchus in Egypt. Papyrus fragments published in 2004 almost completed the poem, drawing international media attention. The poem is one of very few substantially complete works by Sappho, and deals with the effects of ageing. There is scholarly debate about where the poem ends, as four lines previously thought to have been part of the poem are not found on the 2004 papyrus."
(https://en.wikipedia.org/wiki/Tithonus_poem)
Note 2: I have used the text of Richard Janko, which can be consulted here:
http://www-personal.umich.edu/~rjanko/Tithonus%20Eos%20and%20the%20cicada.pdf
May you these beautiful gifts of violetladen Muses, my children,
pursue ardently along with the clear-voiced lyre dear to song,
but for me the skin, once freshly soft to touch, old age already
has captured, white became my hair from its former black,
heavy my heart's grown, my knees aren't supporting me now
that once were superbly nimble in the dance like fawns.
These things I often now lament. But what then could I do?
Undecaying, for a human being, never becomes possible.
For once they thought that rose-armed Dawn, taught by Eros,
came to carry Tithonus off to the farthest edge of the world,
though noble and young, but still laid hold of him
gray-haired age in time, having a consort immortal.
ὔμμες τάδε Μοίςαν ἰ]ο̣κ[ό]λ̣πων κάλα δῶρα,παῖδες,1
ςπουδάςδετε καὶτὰ]ν φιλάοιδον λιγύραν χελύνναν·
ἔμοι δ'ἄπαλον πρίν] π̣οτ̣' [ἔ]ο̣ντα χρόα γῆρας ἤδη 
kατέςκεθε, λεῦκαι δ'ἐγ]ένοντο τρίχες ἐκ μελαίναν,
βάρυς δέ μ' ὀ[θ]ῦμο̣ς̣ πεπόηται,γόνα δ'οὐ φέροιςι,5
τὰ δή ποτα λαίψη̣ρ' ἔον ὄρχηςθ'ἴςα νεβρίοιςι.
τὰ⟨νῦν⟩ ςτεναχίςδω θαμέως· ἀλλὰ τί κεν ποείην;
ἀ̣γ̣ήραον, ἄνθρωπον ἔοντ', οὐ δύνατον γένεςθαι.
καὶ γάρ π̣[ο]τ̣α̣ Τίθωνον ἔφαντο βροδόπαχυν Αὔων,
ἔρωι δε̣δ̣άθ̣ειςαν, βάμεν' εἰς ἔςχατα γᾶς φέροιςα[ν,10
ἔοντα̣ [κ]ά̣λ̣ο̣ν καὶ νέον, ἀλλ'αὖτον ὔμως ἔμαρψε
χρόνωι π̣ό̣λ̣ι̣ο̣ν̣ γῆρας, ἔχ̣[ο]ν̣τ̣' ἀθανάταν ἄκοιτιν.