Israeli data: How can efficacy vs. severe disease be strong when 60% of hospitalized are vaccinated?
Jeffrey Morris 17 August 2021
A surge involving the rapidly-transmitting Delta variant in heavily vaccinated countries has led to much hand-wringing that the vaccines are not effective against Delta, or vaccine effectiveness wanes after 4-6 months. This has fueled anti-vaccine sentiment suggesting the vaccines are not working, and causing much stress in vaccinated people that they are not as protected as they thought they would be.
In this post, I will focus on vaccine effectiveness vs. severe disease/hospitalization, which is the key factor for public health. I will not deal with vaccine effectiveness vs. symptomatic or asymptomatic disease here – that has its own set of nuances that I will save for a future post.
One disturbing result that has been repeated about several locations is that a high proportion of patients hospitalized for COVID-19 are vaccinated. For example, we can see from data from the the Israeli government data dashboard that nearly 60% of all patients currently hospitalized for COVID-19 (as of August 15, 2021) are vaccinated (downloaded data set and details are found at the bottom of this post). Out of 515 patients currently hospitalized with severe cases in Israel, 301 (58.4%) of these cases were fully vaccinated, meaning two doses of the Pfizer vaccine.

I have seen this statistic of "nearly 60% of Israeli hospitalized COVID-19 patients are fully vaccinated" mentioned in numerous media reports and social media posts, for example see here. From many, I have seen this statistic used as evidence to support a narrative suggesting vaccines don't work or have lost their effectiveness vs. severe disease, and I have seen other articles quote this type of figure as further evidence for the reduction of effectiveness of the vaccines in trying to justify 3rd shot boosters. (Continue reading at link)
https://www.covid-datascience.com/post/israeli-data-how-can-efficacy-vs-severe-disease-be-strong-when-60-of-hospitalized-are-vaccinated
Comment: Jeffrey Morris is a statistical data scientist, professor and Director of Biostatistics at the Perelman School of Medicine at the University of Pennsylvania. In this article he explains how this data has been misused largely through the mathematical phenomena of Simpson's Paradox, which he also explains. He goes on to break down the Israeli government data taking into account the size of the vaccinated and unvaccinated populations in Israel and normalizes the data with a "per 100,000" calculation. The bottom line of his statistical analysis is shown in this table (updated on 2 September) showing the vaccine is still very effective against severe illness from Covid -19 and that an unvaccinated Israeli is about six times as likely to end up in the hospital as their vaccinated compatriot.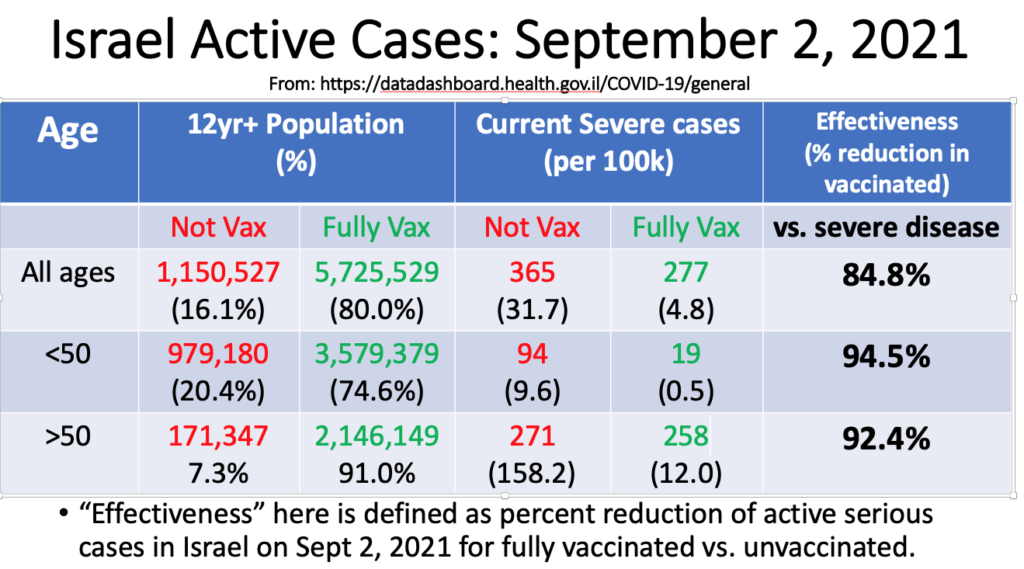 Morris did another study of Israeli data from 10 August to 8 September looking at the effect of vaccines and boosters vs. death/critical/severe disease. The bottom line is pretty much the same. Vaccines, including the third booster dose, work better than no vaccine.