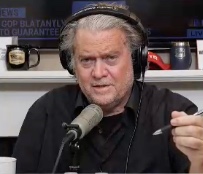 By Robert Willmann
The Department of Justice has charged Steve Bannon, the architect of Donald Trump's come from behind 2016 presidential election victory over Hillary Clinton, with a misdemeanor crime by an indictment filed on 12 November 2021. This was initiated by the committee formed by U.S. House Resolution 503: "Establishing the Select Committee to Investigate the January 6th Attack on the United States Capitol" [1]. The so-called investigation has not yet publicly revealed all of the video and other images inside and outside of the Capitol from early that day into the afternoon so that members of the public may develop their own opinions about what happened. Nor has the committee required the FBI to reveal the information it had and what its agents and assets did before and during that day, so that the public can reach its own conclusions. And so on.
Section 3, part 1 of Resolution 503 by its own words stated its conclusion in advance, and that there is not going to be a real investigation: "To investigate and report upon the facts, circumstances, and causes relating to the January 6, 2021, domestic terrorist attack upon the United States Capitol Complex (hereafter referred to as the 'domestic terrorist attack on the Capitol')…." One cannot attach a label, whether inflammatory or not, to a situation until a good faith effort is made to gather all factual information and think it through.
Bannon is charged under section 192, along with its companion sections 193 and 194, of Title 2 of the U.S. Code [2].
However, back in June 2012, the House of Representatives, and not just a specially created committee, voted to hold former Attorney General Eric Holder in Contempt of Congress for "refusal to comply with a subpoena duly issued by the Committee on Oversight and Government Reform".