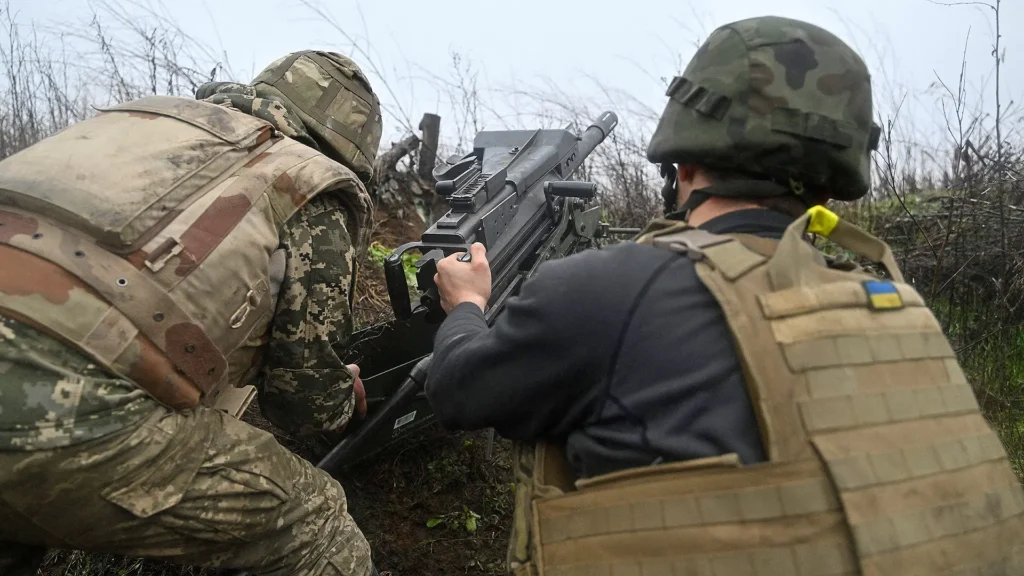 The United States has supplied weapons of increasing cost and sophistication to Ukraine including M777 towed howitzers, Javelin top-attack anti-tank missiles, and eventually M1 Abrams main battle tanks and Patriot air defense systems. But military aid need not always be exotic to have an impact. Starting before Russia's invasion of Ukraine one year ago and continued since, the U.S. also provided modest quantities of low-tech infantry support weapons—M240 and M2 machine guns, 60-millimeter mortars, Mark 19 automatic grenade launchers, and M82 Barret sniper rifles.
These small arms have made their way both to elite commando units, but also to some of Ukraine's most under-equipped troops, where they are making a difference as testified by Olha Bihar, known by her callsign "Witch" (Vyzdma). Formerly a lawyer working on her Ph.D., Witch now commands a mortar platoon in the 204th battalion of the 241st Separate Territorial Defense Force (TDF) Brigade. At least 57,000 women serve in Ukraine's armed forces, including at least 13,000 in roles near frontline combat.
The lightly armed 241st, ostensibly formed for local defense of the capital Kyiv, was one of several brigades thrust into the thick of the fighting for Bakhmut, a town in Eastern Ukraine of middling strategic value that has become an obsessive focus of Russian offensive operations. Since the fall of 2022, tens of thousands of Russian soldiers and mercenaries have been killed or wounded attempting to capture the city.
In a video, Witch recounts an intense battle between October 5-8, 2022 when her platoon defended Bakhmut's Siniat ALC asphalt mixing plant. (Her translated comments have been lightly altered for concision.)
https://www.popularmechanics.com/military/weapons/a43032915/ukraine-using-tiny-american-weapons-in-russian-war/
Comment: Witch's accounts of using the Mk 19 grenade launcher in an indirect fire mode brings a smile to this old soldier's face. It's not a new concept. It was used by 3/5 Marines against the Taliban in 2010. A "Marine Corps Gazette" article from 2020 details exactly how this was done. The technique sounds quite complicated, more complicated than I think it has to be. But then again, Ive never employed a Mk 19 grenade launcher.
https://mca-marines.org/wp-content/uploads/0520-MK-19-High-Angel-Fire.pdf
The method used by the witch's weapons platoon uses a drone for initial target location and adjustment of fire. I imagine it still uses some kind of artillery gunner's quadrant to determine elevation of the gun and a firing table to match the distance to target to elevation. I bet some smart Ukrainian cybergeek could create an app to do all that. Tap in the distance to target, lay the smart phone along the barrel or receiver and the screen turns green when the gun is at the correct elevation. I'm sure most smart phones have inclinometer and compass apps. Should be an easy hack.
We learned how to use our M-60 machine guns in an indirect fire mode during an exchange tour with the Royal Australian Regiment. They used a standard mortar sight attached to a tripod mounted M-60, aiming stakes and a firing table. It was the same technique used in firing mortars. I haven't seen that taught in any US military schools, although it's not a new technique. It was used with Vickers guns in WWI, WWII and elsewhere. With a drone and the right app, a squad/platoon machine gun (tripod mounted) could easily and quickly be used as an indirect fire area weapon. These are the types of techniques that should be taught in all infantry and territorial defense type units.
TTG
https://www.youtube.com/watch?v=ztdy5irVLmI
https://vickersmg.blog/2021/01/17/indirect-fire-a-primer/
https://researchcentre.army.gov.au/library/land-power-forum/indirect-machine-gunnery-motorised-battalion