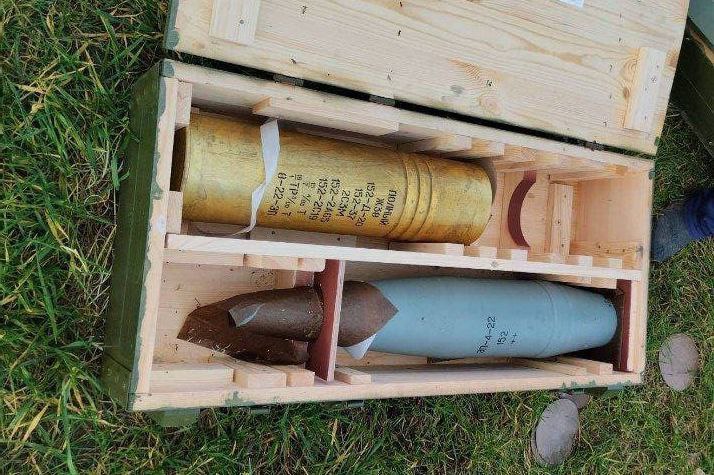 I cannot begin to overstate the battlefield shift in the logistical "correlation of forces" this tweet thread represents. Ukraine is trading artillery shells 1-to-1 at Bakhmut and half of AFU shells are Western 155mm caliber. The highest single "Russian artillery shells in a day count" that Ukraine has provided in the current war for Russia is 65,000 shells in May 2022 as Siervodonesk and Lysychansk were over run. AFU was only shooting about 1,000 shells a day at that time. AFU is currently shooting between 4,000 and 5,000 shells a day in all Ukraine.
The straight up change:  Russia is only shooting one shell a day in Bakhmut for every 13 it was firing in its May 2022  Siervodonesk and Lysychansk offensive. AT BEST. Furthermore, besides the Russian thermite incendiary rockets, we are not seeing anywhere near the scale of cluster munition use from the Russian Army that we saw in the May 2022 Siervodonesk and Lysychansk offensive.
Industrial base observation: A cluster munition artillery shell has less explosive filler, the expensive chemical part, than a unitary artillery shell. Sixty odd fuzes, copper liners and submunition bodies displace over half the explosive by volume of a 155mm shell. Old US 155mm shells with 64 cluster munitions were three times more effective on a shell for shell basis than a new production unitary 155mm shell and used less than half the explosives. Lots of little bangs are simply more cost and combat effective than a single big one.
Russian rockets have about 1/9th the submunitions of an equivalent size Western one and 152mm shells 2/3 to 1/8th a 155mm, industrial Q.C. reasons. So we should actually be seeing an increased percentage of Russian cluster shells. We aren't. We ought to be seeing a bunch of Russian 152mm 3-O-13 or 3-O-23 cluster munition shells. No one has reported any recently in Western social or corporate media.
Filling empty 152mm cargo shell bodies with pre-made cluster munitions is a far safer and less skilled operation than pouring molten explosives. Especially if you are using the older 3-O-13 type cluster munitions that fit eight to a 152mm shell.
We haven't seen this in a year of fighting. Instead Russia is buying old North Korean artillery munitions. The Russian artillery manufacturing base is looking as or more 'supply constrained' as the Western one. Particularly when it comes to artillery shell cluster munitions. Either Putin is saving a "Sunday punch" of cluster munitions…which unlikely. Or we are looking at the protracted aftermath of a complete shut down of Russia's 152mm shell cluster munition manufacturing base.
There are implications in this further Western intelligence miss regarding the Russian Artillery munitions industrial supply chain. As in, what ELSE is Western intelligence missing in Russian artillery logistics?
https://twitter.com/TrentTelenko/status/1626067972539183104
Comment: This is the work of Trent Telenko, a retired DOD civil servant. The focus of most of his posts is the logistical aspects of the the war in Ukraine. I assume his DOD career was in logistics. His twitter threads are insightful. I recommend going to the source to see his embedded graphics and supporting references. In this thread he references the interview with the commander of the Ukrainian 45th Artillery Brigade. Wiz linked to that interview yesterday and it is well worth reading by itself.
https://wartranslated.com/pravda-com-ua-interview-ukrainian-colonel-oleh-faydyuk/
The overall conclusion in Telenko's articles is that the Russians are facing serious logistical challenges to their future conduct of this war. Their truck fleet has been decimated and their stocks of ammunitions are not as limitless as many would like us to believe. The antiquated manual nature of their logistics system exacerbates these problems as does the Ukrainians' smart and deliberate targeting of that logistics system. A lesson all are learning from this war is that no one has an industrial base to adequately support this kind of war.
TTG