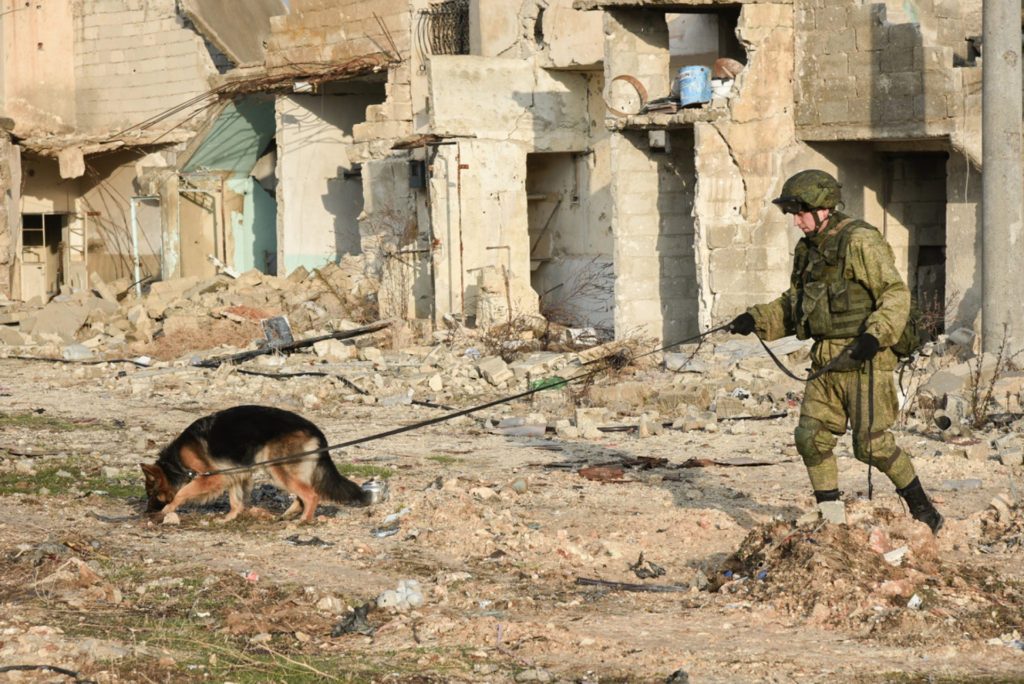 For English teacher Hamdo, watching Russia's war on Ukraine has brought back memories of the darkest days of his life — the siege of his city, Aleppo, in 2016.
Russia invaded Ukraine in late February.The war has caused hundreds of civilian deaths, including dozens of children, and forced more than three million people to flee the country. But six years before its Ukraine war, Russia began another ruthless military operation thousands of kilometers away in Syria — to prop up the Bashar al-Assad regime. Victims of that war say the scenes from Ukraine on their television screens look hauntingly familiar.
With the help of Russia, President Bashar al-Assad's regime and its allies turned eastern Aleppo into a kill box. Three-hundred thousand of its residents were besieged, cut off from food and bombed into submission in December, 2016. It was a tactic used throughout the war and across the country, including alleged chemical attacks, which it denied. Those who survived the shelling had to leave behind what was left of their homes.
"They destroyed us; they destroyed our psychology," Hamdo said. He recalled going to a hospital days before he left the city only to find himself walking over bodies to get through to his friend. "This is what will happen in Ukraine," he said. "What's going on in Ukraine is only the beginning."
https://www.cnn.com/2022/03/18/middleeast/mideast-summary-03-18-2022-intl/
Comment: This story is told over and over again in the Western press. It's called the "Aleppo Playbook" for short and claims that Russia intends to destroy every major city in Ukraine just like they destroyed Aleppo in 2016. I don't remember it that way at all.
The battle of Aleppo began in 2012. There was active, violent and deadly combat continually between jihadis and the Syrian military for the next four years. It never stopped. There was tremendous destruction and high casualties among both the combatants and the civilian population. But this was Syria's war, not Russia's. Yes, Russian Aerospace Forces did participate in the intense one month bombing of Aleppo in September-October 2016. That bombing did kill civilians, but its purpose was to rid the city of jihadis which was finally accomplished by the Syrian Arab Army. At one point, Russia was accused of deliberately bombing a relief column of humanitarian aid. Turns out they didn't. More propagandistic bullshit. It was Syrian aircraft.
The destruction of large parts, not all, of Aleppo is due to active combat against a determined and, in this case, ruthless foe over a prolonged period. This is no different that countless European cities in WWII. It was no different than many cities in Iraq that suffered tremendous destruction at our hands. That's what happens when determined foes are determined to defeat each other in a built up area. Things break and people die. This didn't happen in Paris because neither side decided to fight for it. That raises a whole different moral question.
Russia's conduct in Syria remains, in my opinion, a model of military intervention. Their footprint was always small, primarily AD/A2, trainers and advisors and the military police of the unique and the highly effective Russian Reconciliation Center for Syria. That, by itself, was an absolutely brilliant accomplishment. They guided the training and equipping of the Syrian military in consonance with the existing military. They did not try to make the Syrian Arab Army into a copy of the Russian Army. In hindsight, that decision was even smarter than it appeared at the time.
The record of Russia in Syria is the record of military power applied in a smart and judicious manner that allowed Syria to rescue herself from defeat at the hands of the jihadis. It is a record to be proud of and a record that I still admire. It's amazing that Putin and his once much vaunted military machine have now screwed the pooch so badly in Ukraine. Well, it's like they say, "One aw-shit wipes away all the attaboys."
TTG